---
Maybe Rainy Tonight, Hopefully Not
So far, so good today. Clouds have continued to increase throughout the afternoon, but so far we have had a nice dry day. Expect for clouds to continue to increase as we head into the evening hours. You may want to bring a light jacket with you tonight if you have any outdoor plans as temps will fall into the 60s by 8 PM.
As for our rain chances tonight, we do still have that outside chance of showers this evening.
The HRRR shows a system passing south of us, but the northern part of it could spread in some light rain. No rainout or storm concerns:
*5 PM Update, the latest run of the HRRR (shown above) seems to be agreeing with the NAM3 (shown below) that showers could hold off until around or right before midnight. This model continues to show us getting some rainfall overnight.*
I find comfort in the fact the radar is delivering us the rain in Preds colors.
That said, the NAM3 model still keeps the rain south of us, with only a few showers creeping in long after midnight:
So, place your bets, but I'm not worried about a little rain if we're going to have a huge party after the game tonight.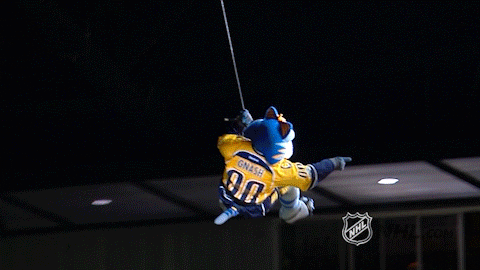 Showers and Thunderstorms Return By Tuesday Night
Models have come to a "better" consensus on how the rain situation will play out; however, uncertainties do remain.
For the most part, models want to keep us dry through the day on Tuesday. There is still a small chance that we could get side-swiped by some showers, but the overall weather maker looks to hold off until Tuesday night into Wednesday.
So about that next weather maker. Models are showing a line of showers moving through the area sometime late Tuesday night into early Wednesday morning.
Both the NAM and GFS show a general overnight to early morning arrival of the rain with scattered showers remaining through the day on Wednesday.
NAM Loop 1 PM Tuesday Through 4 PM Wednesday
GFS Loop 7 PM Tuesday Through 1 AM Thursday
There are still a few uncertainties with the exact timing; however, if the models stick to this scenario (big if and if they are correct), then those with outdoor plans early Tuesday evening may be able to squeeze them in.
As for severe weather, while we will have some key severe weather ingredients, models portray that we will lack any moisture build up. Our dew point temps are expected to be in the 50s. We would need dew point temps to be about 10 to 20 degrees higher for there to be more severe weather concern. For now, just expecting some general thunderstorms in the mix.
Clouds and some showers could linger into Thursday before sunny skies return on Friday.
5-Day Pollen.com Forecast
---