---
Stormy Period Ahead
Update: The latest run of the HRRR Model isn't picking up all too well on showers/storms currently moving into middle Tennessee, headed our way. In short, let's keep an eye on radar as a chance for rain may increase in the next few hours. If the activity holds together, it will impact Nashville proper during the start of the PM commute (4:00-4:30PM).
SPC Mesoscale Discussion issued this afternoon:
Tonight's Focus? Let's Go Preds!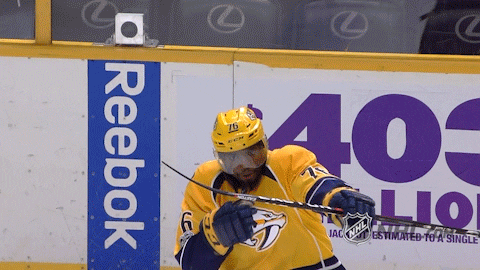 Headed out to Bridgestone Arena to see the Predators try for a series sweep tonight? Bring the rain jacket just in case.
Friday…
Morning drives to school and work will remain mostly rain free. A few showers could be around at the time, but nothing to cause an existential crisis.
However, by noontime, models like the NAM3 are projecting decent thunderstorm development across both Davidson and Williamson Counties, continuing through the afternoon.
NAM3 Model Projection at 4PM Friday
A couple of these could become rigorous enough to produce hail and gusty winds, so the Storm Prediction Center has placed all of us under a "Marginal", or low-end risk for a few severe storms:
Saturday…
The early morning hours will be quiet, but an approaching cold front will bring us another shot at showers and thunderstorms beginning around late morning to midday (11AM-1PM). These should continue well into the afternoon and maybe the evening. A few of these could also be on the strong side, but we aren't expecting widespread coverage of severe weather here on Saturday. If this changes, we of course will let you know.
Heavy Rainfall Potential Friday-Saturday
A big concern heading into the weekend is the possibility of heavy rain and "training" thunderstorms. What some forecast models are showing is that maybe after some storms get going, say on Friday, that more storms move over the same locations twice or three times. Multiple doses of rain in short spans of time raises the concern for flash flooding.
Rainfall totals are expected to be between 1-3″, with locally higher amounts. I think generally 2″ is a good bet for Davidson and Williamson Counties.
Looking Ahead
Sunday will be a gloomy and MUCH cooler day, with highs in the lower 60s! A few rain showers are possible also as moisture wraps around behind Saturday's cold front.
Dry conditions and above average temperatures will return Tuesday through the rest of next week.
5-Day Allergy Forecast From Pollen.com
---