---
Nice, Temperature-Wise, Through Friday
We are on an upward trend with temperatures — today, approaching 70º, Friday in the mid 70s. A gradual increase in cloudiness is forecast for Friday, ahead of our next *several* weather makers.
Active Weather Pattern Unfolds Saturday
Updated: Let's start with the NAM3 Model…
Over the past several days, most models have slowed down the progression of storms on Saturday across the Tennessee and lower Mississippi Valleys. What implications does this have?
The initial line of strong/severe storms that is forecast over the midwest on Friday looks to weaken substantially before reaching us on Saturday morning.
If the initial line weakens, then we remain warm and humid, a new line of storms could form and is beginning to be modeled by the GFS, NAM, and EURO. This round of storms could be abundantly more efficient in providing severe weather to our area Saturday afternoon and night.
The Storm Prediction Center has placed our area under a "Marginal Risk" for storms capable of hail and damaging winds on Saturday.
The real limiting factor to storms becoming potent Saturday night will be the available "storm food". Instability, as it stands right now, will be greatest south of I-40. This could very well change but we will monitor the situation as the day approaches.
Sunday's Nashville Chili Fest 12-3PM
Rain *may* linger into the morning hours on Sunday, remnants of Saturday's storms. There is some uncertainty as to whether this clears out by noontime; however, all signs are positively indicating that most wet weather moves east by 12-1PM on Sunday.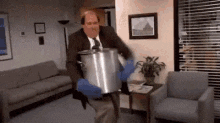 #DontRainOnMyChili
More Storm Chances, Some Severe?
GFS Loop for Monday
As it stands right now, the Storm Prediction Center has highlighted areas to our south and west for severe weather potential on Monday. This same batch of storms is expected to roll through our area. In other words, let's keep an eye on Monday's system also.
SPC Outlook for Monday
…several more waves of energy will look to cross middle Tennessee into the beginning of April. Warm and unsettled are the three keywords for springtime in Nashville, and these next few weeks look to be no exception.
5-Day Allergy Forecast From Pollen.com
---
---