Quick Look Forecast
Tonight: Heavy Rain, Chance of Strong/Severe Storms
As I write this update, it's 77°, but our dewpoint is a very-dry 33°. Dewpoints that low aren't going to fuel any bad storms.
But, storms currently in Missouri will surf a thin wave of higher dewpoints arriving in Middle Tennessee late tonight.
For us, this means heavy rain and maybe some strong/severe storms.
ETA Range: 10PM-1AM. The HRRR model thinks the most likely arrival time is around 11 PM. Behold:
What kind of storms? The Storm Prediction Center probabilities of "x" happening within 25 miles of us are:
Damaging Straight Line winds: 15%.
Tornado: we are just outside the 2% risk area; arguably, western parts of Davidson and Williamson Counties are included.
We are excluded from the Hail risk area:
We are expecting a lot of rain, around 0.35″.
Our anxiety level is pretty low. We will tweet them on in tonight.
Further updates will be posted on Twitter @NashSevereWx and on NashSevereWx.com as warranted.
Cooler Friday, Snow Chances Saturday Night
Friday
Rain will end Friday morning, and then begins the rapid cool down. A cold north wind will take over on Friday, gusting as high as 20 mph at times.
We will be some 15-20 degrees cooler, topping out in the upper 40s in most spots.
Saturday Rain/Snow
Saturday, temperatures will be above freezing for a good portion of the day.
Rain chances begin around lunchtime.
Temps will slowly fall through the day. Around dusk, we should be nearing freezing. That's when some models are showing changeover from rain to rain/snow mix.
By 9PM Saturday, forecasts from NWS Nashville indicate we'll reach 32ºF, which will begin the possibility of a changeover to all snow (assuming of course there is actually some precip overhead). To quote NWS-Nashville's afternoon Special Weather Statement:

"An accumulating snowfall event will be possible across the entire mid state region as Saturday night progresses, with greatest snowfall accumulation potential for locations generally along and east of Interstate 24."
Note the Uncertainty! Note that NWS's statement said snow "will be possible" not "snow is certain" and not "snow is likely to happen."
Again, from NWS-Nashville:
A look at the models…Boom vs. Bust…
They all say slightly different things. I suppose I could put them all up here and leave you wondering which is right.
One I like for snow events forecast 48 hours away is the Short Range Ensemble Forecast, which takes 26 mini-models (called "members") and produces the mean (take the sum of all members and divide by 26). It says:
This is probably an overestimate. This may be counting sleet as accumulating snow. It also assumes the first snowflakes will accumulate, which we doubt will happen because the wet ground will be initially too warm to hold it all. Right now, I think 1″ is the most likely — but not a certain — result.  Note that several of the members inside the model have very little accumulation.
I also think it's worthwhile to look at the NAM4. It has very little moisture, and temps too warm for any real mix/snow Saturday night:
If the NAM4 is correct, add this to another busted snow event in Middle Tennessee. The bust potential is real, but not quite spectacular.
All this may change. Embrace uncertainty and stay tuned.
Next Week
Fluctuating temperatures, with a few cold fronts to send the warm air back where it came from, can be expected throughout next week. Monday night-Tuesday we are keeping an eye on the potential for another rain/snow event. Warmer air may make a return, starting around the third full week in March (20-21st).
Spring Your Clocks Forward Saturday Night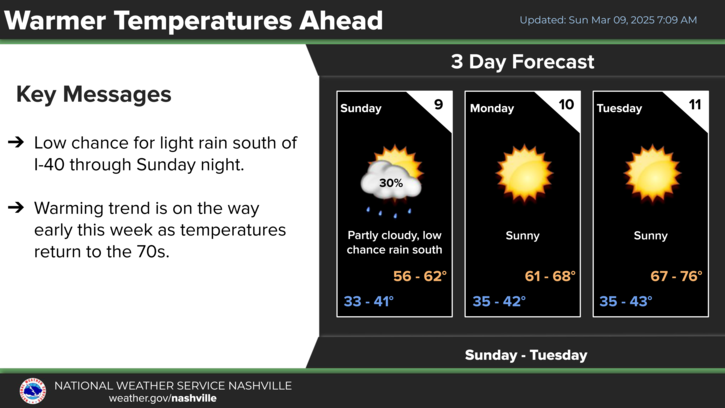 Finally….
This website and @NashSevereWx is run by locals. We cannot do it without your financial support. We are truly supported by individuals in the community like you. If you'd like to help us out on a monthly basis, or just to learn more about it, here's how: https://www.patreon.com/NashSevereWx. If not, it's cool. We aren't going to hide our stuff behind a pay wall or anything. Thanks, y'all.