Soggy and Warm 24 Hours
Some random showers have continued to move through the Middle Tennessee area this afternoon, but the majority of us should stay dry through the early evening hours tonight. After midnight, expect for showers to move into our area.
The latest run of the HRRR is just coming into range for the early morning hours tomorrow. We could begin to see some light showers in the early AM hours, with the majority of the showers coming a little later in the day.
HRRR Loop from midnight tonight through 8 AM tomorrow:
Our above average temps will continue to hang around over the next several days. Nothing new there.
You may want to keep the rain gear handy all day tomorrow as well. Normally I would say to keep your umbrella handy, but the wind may prevent your umbrella from working very well. By the afternoon today, winds are expected to pick up into the 10-15 mph range with gusts as high as 30 mph. These gusty winds are expected to stick around through tonight and tomorrow.
Bottom line, you'll want your rain jacket and rain boots tomorrow.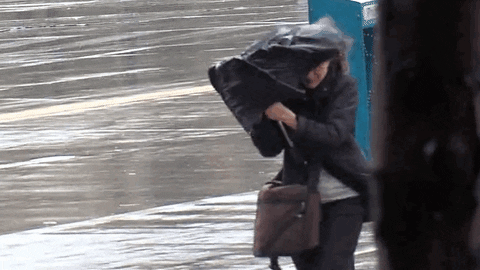 Sunny By Mid-Week, Showers Return For the Weekend

Temps continue to stay on the warm side through the remainder of the week. Wednesday and Thursday appear to be our two go-to sunny days for the week. By Thursday night, shower chances will creep back into the forecast.
GFS Loop From Midnight Thursday Night Through 1 PM Sunday
For those in town for the SEC Men's Basketball Tournament, you may want to start keeping the umbrella handy on Thursday night.
Additional Tidbit About This Weekend
In addition to this rain mentioned above, we may need to keep an eye on the models for this weekend.
The SPC currently has us in a Day 6 Outlook for severe weather.
So what does this mean? This outlook is for this upcoming Saturday. All this means at this point is that we just need to keep an eye out for this weekend. It is still way too far to answer any severe weather/timing type questions, but we should just monitor the models and see how they play out as the week progresses.
http://giphy.com/gifs/interested-informed-Kcjxm048an6RG
Finally….
This website is new, backed by a new host, and supported by a web professional. This means our web costs have tripled, and as traffic builds, those costs will quadruple. Our costs are monthly, just like yours are, so any monthly financial support we can get goes a long way. If you like what we're doing here and on Twitter, here's how you can help:
https://www.patreon.com/NashSevereWx.
If not, it's cool. We aren't going to hide our stuff behind a pay wall or anything. Thanks, y'all.