Tonight – Super Chill Forecast
Clouds are increasing. Tonight is just another cold night. The Winter Weather Advisory is not for tonight.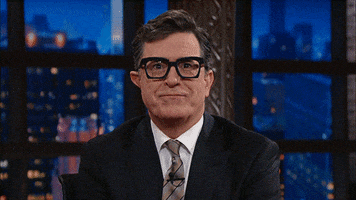 Winter Weather Advisory from Thursday at Noon Until Thursday at Midnight
Current expectations: under 1″ of snow
Here's the text of the Winter Weather Advisory:
This advisory DOES NOT MEAN we will get a lot of snowfall. We are currently expecting up to one inch but will likely see less than that. A dusting appears more likely.
Please don't read "Winter Weather Advisory" and panic. Right now it looks like 1" or less. When it's time to panic, we'll let you know.

— NashSevereWx (@NashSevereWx) January 4, 2017
Storm forecast totals from NWS-Nashville.
Uncertain ETA
Earlier today, NWS-Nashville put out this timing graphic, giving us a first chance of flakes between noon and 3 PM.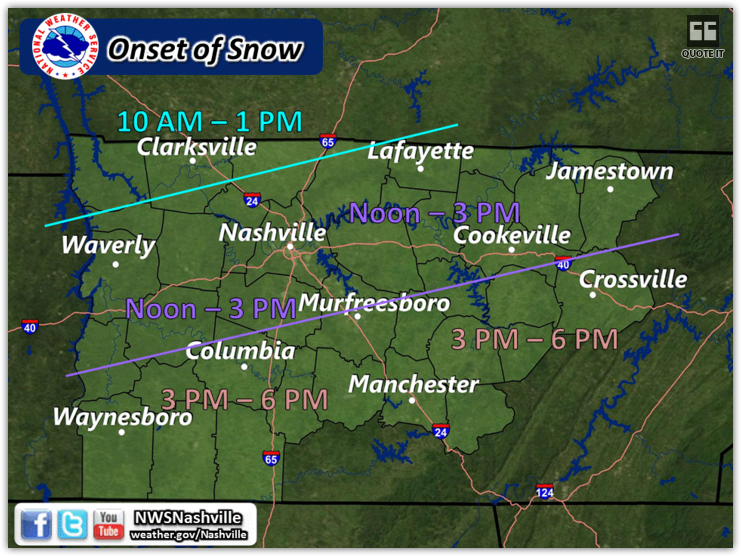 However, the HRRR model is expecting wintry precip as early as Thursday morning:
What Could Go Wrong? aka How Might This Forecast "Bust?"
Anytime snow is forecast in Middle Tennessee, look for the things that can "go wrong" with the forecast.
To get snow we need four things: a robust precip-maker, freezing temps at the surface, freezing temps aloft, and moisture from the sky to the ground. We will have the second and third things: freezing temps aloft and at the surface tomorrow. The issue with tomorrow is whether the precip-maker will be strong enough and whether a layer of dry air will evaporate the snow on its way down to the ground. 
The precip maker on all the models looks pretty weak. And there's is a signal the Dry Air Monster will be there. If we do not see snow, this will probably be the reason.
Let's say it's snowing 10,000 feet up in the air. When that snow falls to 9,000 feet, then 8,000 feet, and so forth, it encounters air with varying levels of moisture. If the snow encounters really dry air, it evaporates, or, as we say, the Dry Air Monster eats it all up.
This is super-nerdily illustrated by the below forecast soundings. Ignore most of it. The green line represents moisture content from the ground at the bottom all the way up the atmosphere. When the green line is far away from the red temperature line, it means the Dry Air Monster is there, and will eat the snow, preventing it from falling to ground. If you want it to snow, you want the red line and green line to BOTH be below freezing and CLOSE to each other at the surface. Since the lines have space in between, the dry air will eat any precipitation that falls through that area.
Will the D.A.M. be there tomorrow?
The HRRR Model thinks so.
So does the GFS Model:
Everytime the D.A.M. eats, the red and green lines get closer together. Tomorrow will feature not very much snow aloft, so the Monster may eat it all up before it gets to the ground. Which means we would not have snow.
These are just the latest runs of these two models. The models keep switching their position on us getting snowfall. Those to our north are expected to get the majority, but one model run will show us getting a dusting and the very next run will say no.
The HRRR model decides to say sure to snow for now:
And then the latest GFS says ha no, not really y'all:
The models do not agree on the precipitation, but both show the Dry Air Monster. Hence more uncertainty, and why we think this is will be closer to a dusting or a bust than a 1″ snow event.
We won't really know until the morning, when we actually see the radar returns in western Kentucky and we get the 6 AM balloon data back from the NWS office in Nashville, which will tell us actually how much dry air is up there, instead of what the models (possibly mistakenly) believe.
Takeaways:
At best, we could see anywhere from a trace of snowfall, to one inch. We could potentially see none at all (return of the snow dome?).
Embrace the uncertainty that is tomorrow. There is no need go into panic mode with the information we know at this point.
If any snow does fall to the ground, it will freeze, which will lead to slick roads. Temps will not warm above freezing. Drive responsibly.
Over the next 24 hours, stay tuned to multiple reliable weather sources. Follow your local TV meteorologist(s), follow our local NWS office, and follow us on Twitter @NashSevereWx for up-to-date information.
This forecast will likely change. Do not just read one source one time, and expect it to be relevant 6+ hours later. Stay tuned.
Extended Outlook
Note: We need to keep an eye on Friday into Friday night. There will be another low pressure system that will be moving south of our area and potentially bring snow to those south of us. If this system shifts north (not expected to but we will always watch it), then we may need to re-discuss that topic.
Current Radar
This website supplements @NashSevereWx on Twitter, 

which you can find here.