Cloudy, Drizzly, Overcast, Mid 50°s Today
Winds are light. The real rain is southeast of us, but we may see a few light showers or sprinklers today.
HRRR model simulated radar through 1 AM:
If going to the Titans game, I suggest a jacket with a hard shell that's rain resistant. No need to dress like the fishsticks guy.
Monday Rain & Thunderstorms: Severe Weather Possible
Light rain in the morning, heavier rain in the afternoon, evening, and even into the late hours of Monday night and early Tuesday morning. The rain won't be continuous all day, but more than 1″ is expected through Tuesday morning.
We may also see storms. NWS-Nashville says this is a "fairly vigorous system."
It will be most vigorous to our south. The Storm Prediction Center pulled the wrapping off its "Enhanced" severe weather outlook in Louisiana, Mississippi, and Alabama, where the probability of severe weather is 30%:
We are in the "Marginal" category, meaning, the probability of a severe weather event for us is 5%. This map will likely change. We will update it on Twitter @NashSevereWx.
Why the concern?
A warm front will lift north tomorrow afternoon while a surface low pressure system moves northeast, and passes close by. The exact track of this low will determine our severe weather potential. Those south and east of the low are at risk of strong/severe thunderstorms.
So where's it going? This morning, NWS-Nashville wrote:
The trend has been for the surface low to track a little further south with each model run, but currently that track has the low moving from Memphis to Clarksville.
(You may need to click on this to animate)
That would put us in range for some strong or severe storms.
However, even if the low follows that track (it may not; if it passes south of us we won't get any storms), the severe weather parameters aren't off the charts. Shear (winds rotating with height) and instability (temps cooling with height) levels are sufficient for shenanigans, but not panicky/alarming.
Damaging winds, and maybe a tornado, are the main hazards. NWS-Nashville published this hazard/confidence chart yesterday. I think it's still good today:
Remember, this looks like a low-end concern right now. Expect this forecast to change, so keep an eye on the forecast today and especially tomorrow.
Arctic Air Arrives Wednesday; Snow Chances Thursday-Friday? Meh.
Tuesday's high is 64°. Wednesday's high: 38°. Thursday morning's low is 24°, the high is 35°.
Over the past several days, the GFS and Euro models have Drunk Uncled their way around this forecast, from 8″ of snow on the ground to no precip at all, and everything in between. The models often do this 7, 6, and 5 days before an "event," and they'll continue to behave like this for the next few days. Putting snow on your roof requires dozens and dozens of very complicated things to come together at the exact same time, and the forecast models just aren't that good. They're getting better, but there is certainly room for improvement.
Here's the techie way of describing it, from NWS-Nashville:
As this system pulls out of the region Tuesday night, the larger longwave pattern really starts to kick into action.  Several 

lobes

 will rotate around this longwave pattern, each bringing colder air with it and by Wednesday night and Thursday, there is a chance of some moisture being involved with one of these lobes.  

This means our first real chance at some of the white stuff

.  Here`s the problem: models aren`t in good agreement with the timing of this. The GFS model would suggest late Wednesday night and Thursday. The latest run of the Euro model doesn`t have this until Thursday night/Friday. This 24 hour difference and large model variability over the last couple of days has led to low confidence and lower probability of precipitation through this time frame. Either way, once the moisture decides to make its way here, temperatures aren`t going to be the issue. Highs in the low to mid 30s Thursday and Friday and lows in the teens and 20 will provide the necessary environment for at least some flakes in Middle TN.
There is a subliminal message here. They said "lobes." As in Lisa Loeb. Who sang this: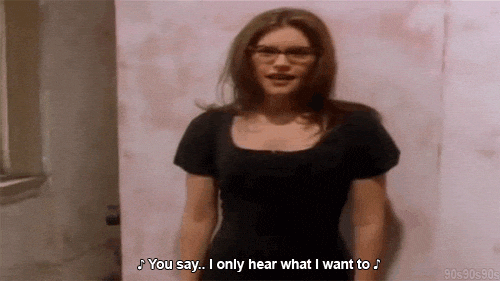 The message: don't hear what you want to. Do not read "snow" or "flakes" and say "it's going to snow" as if that's knowable right now. I know there is a temptation to do that because your crap app may have a no-uncertainly-expressing snowflake clip art next to the day of the week, but do not give in.
The latest run of the Euro model has what looks like a dusting to 1″ Friday morning. The model run before that had absolutely nothing. Helpful, right?
The last two runs of the GFS model have no snow here. I'm not writing it off, but I'm not impressed.
Sounds familiar, doesn't it?
Current Radar