Current Radar
Wind, Rain, and Severe Storm/Tornado

Concerns Tonight
Our high temperature of 69º will arrive shortly after noon, between 1-3pm, in addition to gusty southwest winds in excess of 25 mph. Very humid air has already engulfed middle Tennessee and will continue to hang around with us until showers and storms move through later on.
Timeline
Our latest high resolution guidance begins with light drizzle this morning. The real problems don't truly start until the afternoon.
A well-developed area of rising motion and instability will line up, cooperatively, out west this afternoon. In this particular region, just to the east of Memphis, is where we will see the organized line of showers and thunderstorms develop and set up to move through our two-county region tonight.
Expect the first wave of showers and a few storms (which could be strong) move through from 4-6pm. This is not the "main event." This should be mostly rain.
As the linear convection (storms) forms and propagates east towards Nashville, ascent or rising motion will increase, in addition to higher instability, out ahead of the line.
Arrival of the "main event" storms is anticipated to be around 10pm-midnight.
Threats
Damaging winds and an isolated tornado are the main concerns later this evening. The Storm Prediction Center outlines this:
This means we are at a "2" on a scale of 1-5. This is not expected to be a widespread outbreak of bad weather, but have a weather plan ready tonight while the squall line moves through.
UPDATED: Now a 5% chance of a tornado within 25 miles of any point inside red-shaded area
Better ingredients, per the Storm Prediction Center, are coming in to play for Davidson/Williamson Counties now, too. The tornado threat has been increased for our area this evening as depicted above.
15% chance of a damaging wind greater than 58 mph
A little greater threat for damaging winds exists here. This will be from the main line of storms that is expected between 10pm-midnight.
We'll be looking for radar signatures extending from the squall line like Popeye's arm. These can be a breeding ground for tornadoes. https://t.co/aaXXGQnb1i

— NashSevereWx (@NashSevereWx) December 17, 2016
Follow multiple reliable weather sources tonight. Stay on Twitter and have a local TV station on. Remember, no tornado warnings are ever posted to this website.
Winter Weather Advisory

for Freezing Rain, Midnight to 6 AM
As if storms aren't enough, @NWSNashville has issued a **Winter Weather Advisory** for Freezing Rain for after the storms, midnight to 6 AM. pic.twitter.com/MQamxAqu6p

— NashSevereWx (@NashSevereWx) December 17, 2016
What would 1/10″ of freezing rain do?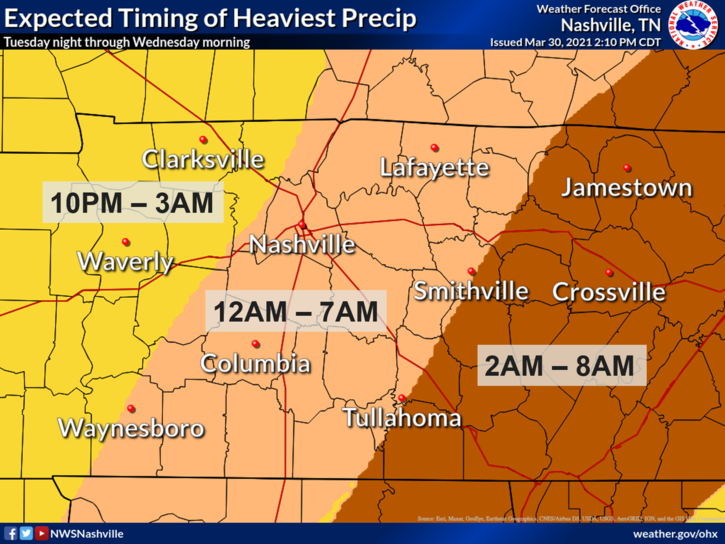 Bridges, overpasses, and areas at elevation (Joelton, 840 near Fairview, etc) are most vulnerable. Warm temps today will make it difficult for ice to accumulate on most other roads.
Overall, this is not a major icing event, but a small accretion is possible.
Temperatures Plummet Sunday
Bitterly cold temps will engulf our area on Sunday with gusty northwest winds. Wind chills will be in the teens by Sunday afternoon. Bundle up, this cold front means business.
For more on today's weather and up-to-the-minute information, please follow us on Twitter at the handle "@NashSevereWx". Also, stay tuned to *multiple* media outlets, especially local network TV stations.
This website supplements @NashSevereWx on Twitter, 

which you can find here.