Current Radar
Tonight: Partly Cloudy – 79° 9 PM
Dry conditions expected to continue as we head into the evening hours. For those with Thursday night football plans, or any outdoor plans at all, temps will cool very nicely after sunset with a few scattered clouds through the night.
Friday: Hot, Slight Chance of Rain in the Afternoon – 
Early Bird 69°
High 93°
After our mini hiatus from the humid air, those dew point temps will jump back into the mid 60s by Friday. Another day with sunny skies expected.
Things may begin to shift as we enter the afternoon hours though. Still expecting for those hot and muggy temps to continue, but we will start to see those "better" rain chances that will linger through the entire weekend.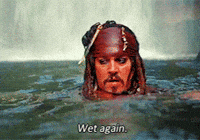 Not expecting a washout, but we could see that pop-up afternoon shower.
Weekend Outlook: Probably Some Sun, Probably Some Rain
So this weekend. On the bright side, we will probably experience mostly cloudy skies regardless, which will help to bring those maximum temperatures down.
However, there appears to be a cold front that will want to make a run for us over the weekend. The NWS calls it a 'sagg-bagg' cold front which looks to be exactly what it is. Most models show it moving pretty slowly, not even really reaching us much before Sunday.  There will probably be enough energy out in front of this cold front though that will help drive up those rain chances on Saturday.
Looks like the majority of us will get some rain at some point this weekend. Not expecting a washout or any severe weather with any rain/thunderstorms that passes through, but have that rain plan ready to go if we see those showers moving towards us on the radar.
Next Week: "Fall" Starts Next Thursday, Mother Nature Disagrees
We've had a lot of people recently ask us "so when is it going to finally feel like fall?" So fall starts next week, but quite frankly it probably still won't feel much like it. While by mid next week our max temps and dew point temps are going to fall to a more comfortable place, we will still be ever so slightly above average (temps will still be in the upper 80s with dew point temps in the low to mid 60s). Fall will come at some point…just have some more hot and humid days to go through.
Allergy Report: 5-Day Pollen.com Forecast
This website supplements @NashSevereWx on Twitter, 

which you can find here.