More Heat & Humidity
This gif expresses how I feel about the heat: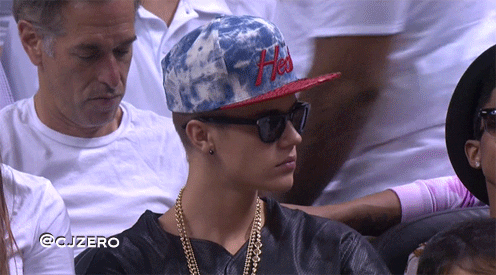 Here we have the Biebs representing HEAT, sticking out in the crowd, and being obnoxious about it with the gold watch, two gold chains, red hot hat brim, indoor sunglasses, and that unnecessarily cool way he grips the water bottle. I like that he's hydrating (although, why two tiny sips, Biebs?), but I can't think that leather (?) garbage-bag-styled shirt is the loose, lightweight clothing that makes more sense during a heat wave. And worst part about it, is the gif never moves on. It's stuck in an interminable loop.
More oppressive heat and humidity today. High 95°, with dewpoints remaining in the low 70°s. High dewpoints in the morning should come down a few degrees, but the heat/humidity combo will remain oppressive, even dangerous by mid-afternoon. You know what to do.
Rain and thunderstorms are in today's forecast. The ETA window is difficult because storms are expected to develop via daytime heating, but expect them anytime from mid/late afternoon lasting into the early evening.
The HRRR model favors more of an early evening arrival. Notice the time stamp at the top-right:
Like yesterday, some of these storms could be strong, with "a couple of localized microbursts" possible. (NWS-Nashville forecast discussion).
Microbursts happen when winds come screaming down from a storm, slam into the ground, then spread out in all directions. Here is an example.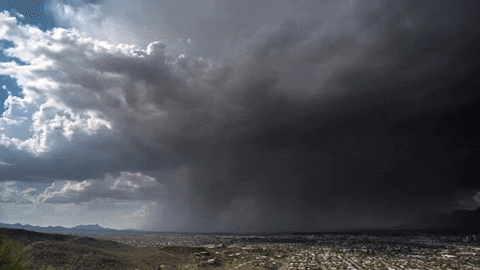 Our microburst concern is low, but we may have had a weak on in Bellevue yesterday, and it knocked out the power.
Storms, again, will be Crazy Ivan — moving from east-to-west. That storm motion is not typical, but we get this a few times every summer. The winds will push the storms that way.
Not long after sunset, the storms will lose their fuel, and start to die off. Heavy rain, frequent lightning, and strong winds are the main concern. Tornadoes are not a worry, and widespread severe weather is not expected.
The Week Ahead
The weather pattern this weekend should not change much Monday and Tuesday, although, we think we'll see less rain Monday and Tuesday when compared to this weekend.
The upper level winds will turn Wednesday. We still may see afternoon/early evening storms, but they'll be coming from a different direction.
Slightly lower humidity — maybe even "noticeably low humidity" — is being advertised by the models Friday and Saturday.
Current Radar
This website supplements @NashSevereWx on Twitter, 

which you can find here.