Current Radar
Y'all. Sharknado4 comes out in 2 weeks. 
Sharknado is a lot of fun. Best viewed with friends, responsibly consumed alcoholic beverages, and crazy-low expectations.
Highs Monday through Sunday: 95°, 95°, 94°, 96°, 96°, 95°, 95°. Although the GFS model has a few late week temps over 100°, the GFS model has joined the "It'll be hot, but not that hot" movement started by the Euro model this afternoon. Maybe not over 100°. But still….
The heat & humidity combo is the bigger deal. Afternoon dewpoints will hover around 70° all week. According to this unofficial chart, we'll end up somewhere between ruined hairdos and needing fish lungs.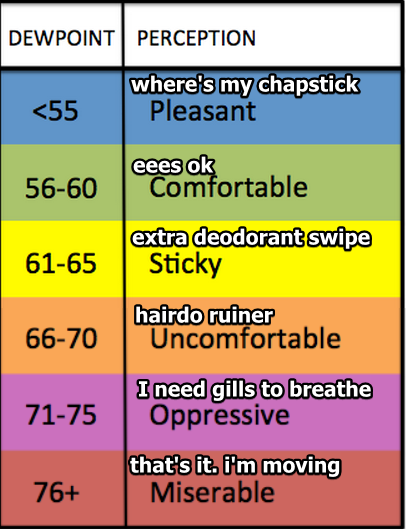 Temps will be hottest mid-afternoon, mid-to-late week. By then, there should be some "mixing" (where drier air aloft mixes with humid air at the surface) to bring the dewpoints down a bit into the 60°s. Although this will still be very hot, it should keep us below Heat Advisory levels, which for us requires a heat index of 105°. 
I will now rant about the Heat Index.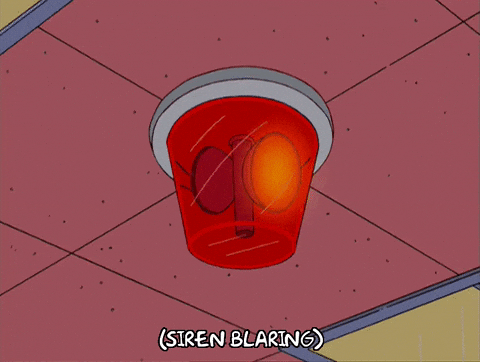 The heat index is really the Shade Index. It takes the temperature
from the shade

, adds the humidity, ignores the heat of the sun, ignores winds, and wants you believe that's what it "feels like" outside. Yeah, that's what it feels like in the shade and assuming there is no wind. Who plays in windless shade all the time? I'll bet 95% of the stuff you play or do outside is in the sun. The Heat Shade Index is popular because it's easy to compute. I have nothing else nice to say about it.
I don't want to rant and run. There is a better way. It's not perfect, but if your [insert outdoor organization] is serious about heat illness prevention, ask them about the Wet Bulb Globe Index. I'm working on something for y'all to use to give you a better way to measure the actual amount of heat stress which you/your kids are being subjected to while playing in the sun, and what to do about it. For starters, I like this. Stay tuned.

This website supplements @NashSevereWx on Twitter, 

which you can find here.