Current Radar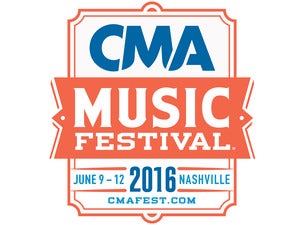 It's Gonna Be Hot Again
Afternoon temps will be in the low 90°s. Remember — official temps are taken in the shade. It'll be hotter at CMAFest because (1) you don't get a lot of wind in a crowd, (2) you're basically on a pavement island; the albado effect will heat you up, (3) most of you are in the sun, (4) you're surrounded by other people who are giving off heat, and, most important, (5) . . .
. . . The Humidity Will Be Oppressive
The dewpoint measures the moisture content of the air, i.e. humidity. All weekend, the dewpoint has been in the upper 50°s or low 60°s. Today, the dewpoint will be in the mid/upper 60°s. This is a huge change. As I write this, the dewpoint is already 68°, which is a lot of humidity.
It'll actually be more humid in the morning and at night than in the afternoon because of meteorology reasons you don't care about, but humidity at all times of day will be oppressive.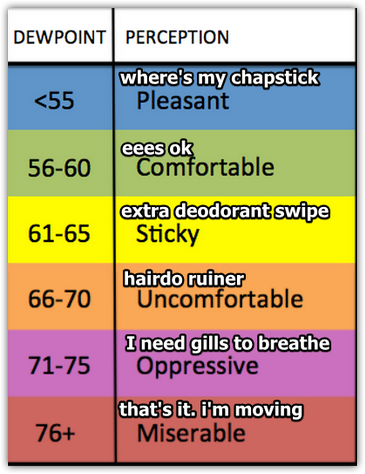 You know what to do. Water. Loose fitting light clothes, etc. My concern is that you'll think you handled 94° yesterday just fine, so you can handle 94° today, no problem. That would be a mistake. We didn't have the humidity yesterday we're going to have today. Be smart. Even heat exhaustion (a precursor to heat stroke) will make you puke, your body will shut down, your day of fun will certainly be over, and it might lead to something more serious. You're spending good money to see some good music, don't get all the way there then blow it because you overheated.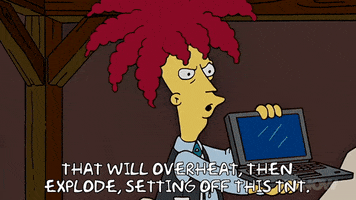 We Also Have To Mention Rain Chances
This weekend's hot temps are from a high pressure center, which has been keeping us dry. Yesterday, we saw a few pockets of rain and thunderstorms develop to our south and southeast (near Bonnaroo), signalling the weakening of the high pressure.
With more moisture (humidity) coming in near the surface, we have to talk about rain chances.
 The best chance of a shower will be mid/late afternoon, maybe lingering into the early evening hours.
 Lightning will be possible in any shower. We saw this yesterday near Bonnaroo.
 Rain/Storms will not move quickly, so if you get caught in a heavy shower, try and find a place to ride it out for 30-45 minutes, maybe longer.
 It's much more likely you will not see rain than you will see it. We aren't any good at knowing when/where these showers will "pop up," but we do look at the models for guidance.
The HRRR model simulates the radar. This runs through 5 PM. Notice how the rain is confined to our south and southwest. This says we don't get wet:
Another model is the NAM4, which, at 4 PM, has showers in Williamson County, and a little bit closer to CMA Fest:
These models aren't even close to 100% accurate. They're' like a good quarterback — completion percentage around 70% is a good stat….if he's having a good day. (And sometimes you have a Hall of Fame QB throwing the pass, only to find out it's a pass to a dog and there's no game, it's a commercial).
We will be updating temps/humidity and rain/storm chances all day on Twitter @NashSevereWx.
The Rest of the Week
Monday looks kinda quiet.
By Tuesday, an upper level trough approaches, which will increase our rain and storm chances. By Tuesday afternoon, we may see some strong (severe unlikely) thunderstorms freckle the radar. We may even get one. The Storm Prediction Center has us under only its non-severe, general thunderstorm outlook for the week ahead.
It's summer. Storm chances are uncertain.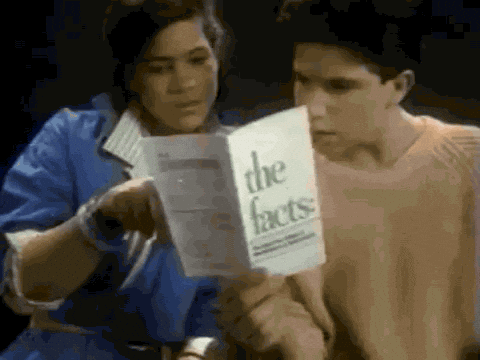 As we move toward the end of the week, there is too much uncertainty in the models to have a meaningful discussion containing actionable information.
This website supplements @NashSevereWx on Twitter, 

which you can find here.