Current Radar
Today: PM Severe Weather Possible – 
High 74°
We've been covered by clouds this morning, which has prevented storm-making destabilization.
The winds, while strong, are largely unidirectional, which does not support large, tilted updrafts necessary for terrible weather.
We have been writing here (and tweeting @NashSevereWx) about the need for us to destabilize and get some variable wind direction if we are going to believe the models' argument that we will see severe weather here later today.
So, all morning, we've been waiting for this to change, but it hasn't changed. And, now, even though we expect some storm-making destabilization and more storm-favorable wind fields this afternoon, it may be too little too late to create a significant severe weather event feared by the models (and the Storm Prediction Center) this morning. As you'll see below, although the tornado risk has been reduced (but not eliminated), the hail and wind risk hasn't (at least, not that much).
That said, we will see storms later today, and they could be severe. Just, not as bad as the "significant severe" event advertised by the models this morning and in the Storm Prediction Center's 8 AM outlook. It's a matter of degree, y'all.
The new Outlook from SPC has been published. We have been removed from the "enhanced risk" area and placed in the next-lowest category, a "slight risk," which is a 2 on a scale of 0 to 5.
SPC has reduced the probability of a tornado within 25 miles of us from 10% to 5%, and removed the "hatched" (significant severe) threat from all of Tennessee.
The probability of damaging winds within 25 miles of us remains 15%.
The probability of large hail has also been pulled further away from us. The current probability of large hail within 25 miles of us is 15%:
All that said, it's still going to rain and storm today, and a severe weather threat remains!
The weather does not care about these outlooks. We have had severe thunderstorms and tornadoes under these outlooks before. But, I like the direction the forecast is moving.
—
Timing
This remains a mess. Models have been little help. This graphic from NWS-Nashville is helpful.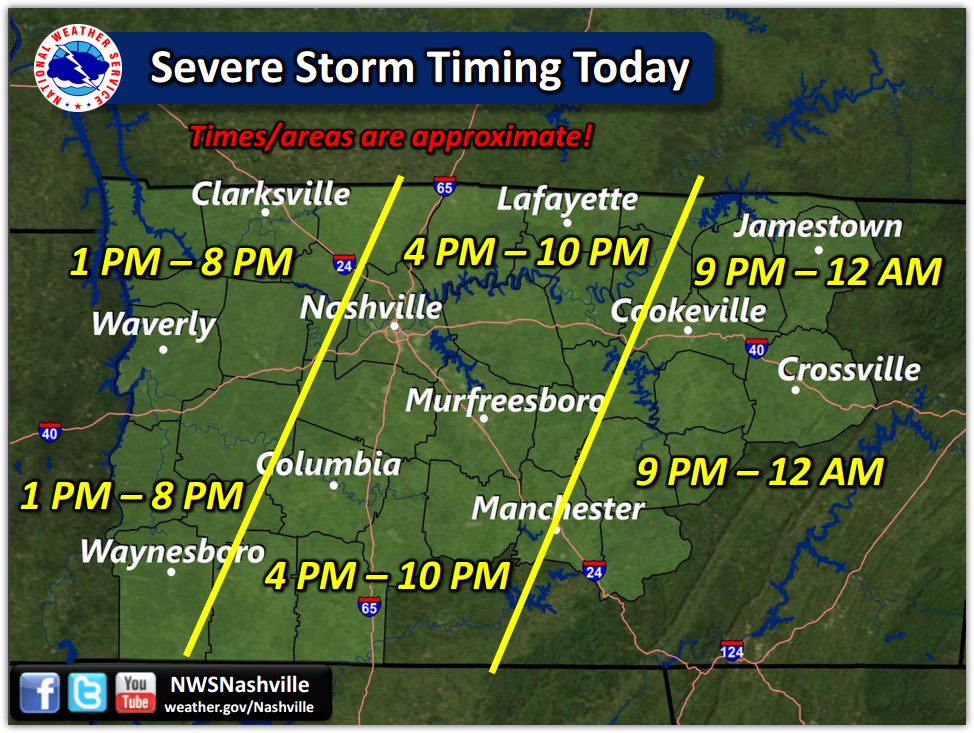 On conf call with NWS now, leaning toward earlier ETA in that 4 PM to 10 PM window for us. Still plenty of uncertainty in the models.

— NashSevereWx (@NashSevereWx) March 31, 2016
It's important to not treat the models as truth. Before we start sounding an alarm, we will need to see CAPE and instability, along with helicity and shear values, actually increase, and make itself evident in weather balloon and other observed data. It has to move beyond the theoretical to the actual. Do not assign alarm to model forecasts. Wait for storms on the radar.
We will be updating you throughout the day on Twitter at @NashSevereWx. We will not post warnings on this website. Consult multiple, reliable weather sources for forecast and warning information, and stay weather-aware. 
—
Rain totals are expected to be around 1-2″. Localized areas (especially in Williamson County) could see up to 3″ of rain with any heavier storms that "train" across a local area.

Friday: Clearing Out – 
Wake Up 54°
High 67°
Still, some clouds will hang around, but we are dry! Highs will be a bit cooler, with temperatures in the mid-to-upper 60s by afternoon.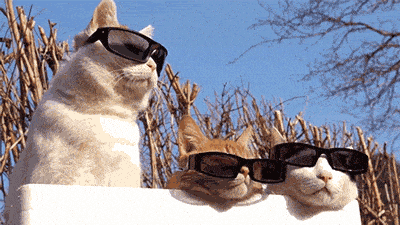 Saturday and Sunday: A Much-Needed Break
Highs will only be in the low 60s, but sunshine will be out in full force. This will be a great weekend to get outside!
Extended Outlook:
This website supplements @NashSevereWx on Twitter, which you can find here.