Current Radar
As I write this, a cold front is taking shape in the midwest. Meanwhile, shortwave energy can be seen over the northern Rocky Mountains. Both are moving southeast, and will be here tomorrow.
Things may get bumpy.
That cold front will show up sometime tomorrow afternoon. Before that, heavy rain, and strong-to-severe storms, will be possible.
What Exactly
A broken line of storms, with maybe some supercells mixed in. These will be most capable of producing damaging straight-line winds. A tornado or two cannot be ruled out.
When
There should be rain in the morning, but we expect it'll be scattered.  Rain coverage and intensity will increase during the day as temps remain unseasonably warm.
Current ETA range for the severe stuff is 11 AM to 4 PM. I think we're in the middle of that window. Consult multiple reliable sources for weather information, and remember this ETA will need a couple of adjustments later tonight and tomorrow.
I'm planning to vote early. With early afternoon storms, rain continuing into the evening, and increasing winds, running into a school or fire station or where-ever you vote will be more difficult later in the day. Get in early, avoid the bad weather, then wear your I VOTED sticker around all day. Just try not to be smug about it.
Am I Worried About It?
It has my attention. SPC has us in its "Slight Risk" category. That's a misleading term. Think of it as a 2 on a scale of 0 to 5.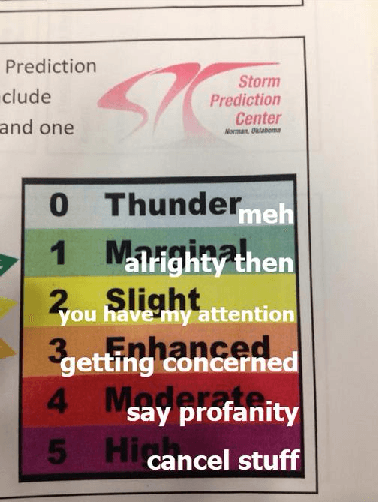 There's decent, but not "OH NO!" shear. CAPE/instability is on the weak side, but it's there. Ingredients right along the front look pretty good for severe weather. All that to say this: I don't think this will be a widespread severe weather event, but that will be no consolation if it happens to you. So, pay attention. Continue your civics-high from morning-voting. We'll be live-tweeting whatever happens all day.
You won't have [outdoor sport] practice tomorrow night. Rain totals between 0.5″ and 1″ will see to that, and it'll still be raining in the evening. With winds ranging from 10 to 20 MPH and temps cratering from 65° at 3 PM, to 57° at 6 PM, to 47° by 9 PM, you won't want to be outside anyway.
As the rain pulls away late Tuesday night into Wednesday morning, there's a possibility it'll briefly change to snow. Hopefully you'll be asleep if/when it does. Neither travel impacts nor accumulation expected.
Reality Returns Wednesday-Friday
Tuesday's cold front will end our stretch of awesome temps.
Rain is likely Thursday, but we think it'll move off and to allow time to dry out for weekend activities.
Glorious Weekend?
Yeah, we think so. Low to mid 60°s, with nothing in the models threatening the fun. I expect awesome weather for Sunday's US Women's National Team game at Nissan Stadium. I'll be there, trying to avoid sunburn.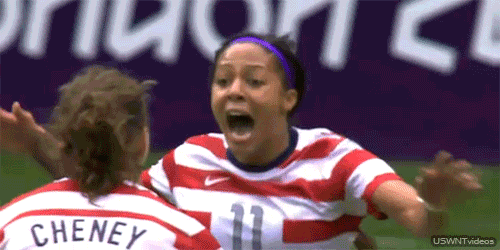 This website supplements @NashSevereWx on Twitter,

which you can find here.