Current Radar
Headlines:
A few heavier rain pockets and even a few rumbles of thunder are occurring northwest of Davidson county. This activity should pull away to the north and east as a larger low pressure system traverses Tennessee and into the Ohio Valley.
HRRR 7am – 8pm Today
Dropping to 35° Tonight…
Yes, I know, we are all tired of the rain by now. But if you can make it through until the weekend, there is some nicer weather in store!
You may hear the "s" word on local media or see it on your smartphone app, but don't worry about it causing any problems in the Metro. Yes, there is the chance we could see snow as temperatures fall tonight, but nothing more than a light to moderate steady snow that will not have a chance to stick. Grassy surfaces will even be tough to retain the white powder, just because temperatures have been above freezing as of recent. Here's the NAM and its forecast:
NAM 3pm Today – 9am Thursday
Thursday, High 43 / Low 29:
As the light snow showers hang around for a good portion of the daylight hours Thursday, temperatures will struggle to make the 40 degree mark. Winds will die down to a meager 5-10mph from the west.
We stay cloudy for much of the day and lows Thursday night will probably sneak into the upper 20s for outlying areas. This, in part to clouds pulling away from Nashville early Friday morning. Clearer skies translates to cooler temperatures (generally speaking, for nighttime hours).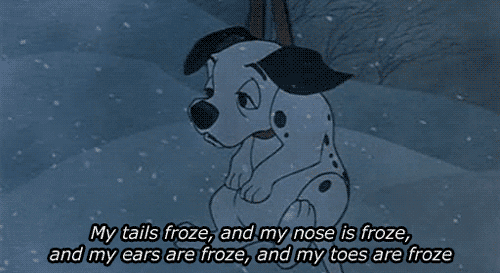 Like this one and the ninety-nine other dalmatians, the warmth will be a welcomed feeling come Friday…but any substantial warmth will have to wait until later into the weekend.
Friday, High 47 / Low 31:
The good news…sunshine returns! With a large dome of high pressure settling into our region, however, "Mr. Great Ball of Fire" will have to earn his way with temperatures only making it to the upper 40s by Friday afternoon. Just a few clouds will scoot on by and a light westerly breeze at 5mph will keep any wind chill factor out of the picture, for the most part.
Friday night, a few clouds will hang around with a low in the lower 30s.
Weekend Preview
Saturday skies will clear out even more, leaving room for temperatures to climb into the middle and upper 50s for much of Davidson and Williamson counties.
Sunday, though, looks to be the pick day of the weekend. Soaring sixties are in the forecast! Look for highs in the middle and maybe even upper 60s.
A roller coaster pattern continues…jackets today, shorts on Sunday! Enjoy.
-Brendan
This website supplements @NashSevereWx on Twitter, which you can find here.