Current Radar
Some Rain Tonight
We'll get a little rain tonight as a giant rain blob passes S and E of us. HRRR illustrates:
Shenanigans Afoot Tuesday
Mostly, south of us.
A powerful surface low will spin into Mississippi tomorrow and march NE, delivering a significant severe weather worry for those in south MS/AL.
I'm worried about the Gumps.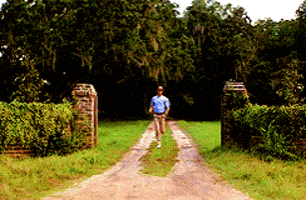 If you have friends in that orange area, and especially that red area, be sure they know to watch the weather tomorrow.
For us, maybe some not-worried-about-it thunderstorms Tuesday. But, mostly rain. We don't have a specific ETA for you, but generally we expect it get here after dark.
This ETA will need fine tuning in the morning.
Rain >>> Snow Wednesday?
The low will move NE, and pass almost overheard late Tuesday night through Wednesday morning. Off and on showers should continue Wednesday afternoon.
The winds will shift to out of the north, and start to blow in colder temps both aloft and at the surface. This colder air will arrive while the departing rain lessens in coverage and intensity.
Just before it the rain leaves, we may see some snow squeeze out Wednesday night into Thursday morning.
The SREF model thinks we will see 0.06″ — yes, that's six hundredths of an inch — total.
We don't think any of it will stick because the ground will be wet and warm, and surface temps aren't forecast to dip below freezing. The GFS model has soil temps in the low 40°s, and no colder than 39°, by the time the snow will have definitely ended Thursday night (it'll likely end well before then).
So, mostly a rain event!
This website supplements @NashSevereWx on Twitter,

which you can find here.