Current Radar 
I know it doesn't feel like it today, but overnight, winds will shift. By tomorrow, it'll be blowing in southerly, warm and humid air.
In fact, those S winds will be quite strong during the day tomorrow outside of the storms. Thus, a wind advisory from our NWS office from 9 AM Tuesday – midnight.
Meanwhile, a cold front will push a squall line across Middle Tennessee.
That means Tuesday is a severe weather day.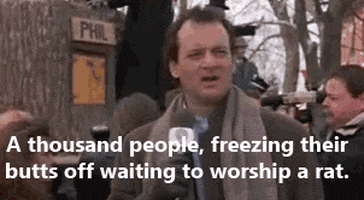 Groundhog Day!
Behold, the Squall Line from the West
A squall line is a line of storms, usually stretching in a line from north to south, that moves east.  The NAM4 model isn't giving it that "classic" line look. The line is broken here, where Meagan wrote "Thunderstorms" in red.
The GFS model gives a better view of it, although because this is a rainfall estimate and not a simulated radar, it's not the best illustration:
Anyway, the point is — a line of storms (whether the line is broken or continuous is unknown) will sweep through Tuesday night, and present a risk of severe weather.
The Main Threat is Damaging Winds
Thunderstorm winds are "severe" at 58+ MPH, and the probability of the squall line giving us that is pretty high.
The GFS model expects winds at 5,000 feet to blow around 70 MPH. In a thunderstorm, winds are transported downward. Hence the concern.
This system will also have powerful winds aloft, which will tilt thunderstorm updrafts. This makes storms stronger. Winds at 18,000 feet (yes, storms get very tall) will easily run over 100 MPH, leaning those storms to one side, giving them more power.
What About Tornadoes?
Tornadoes are the next biggest threat.
Not only will the wind fields build thunderstorm strength, but they'll also help rotate the thunderstorm itself. At the surface, winds will be blowing from the south. The further up the atmosphere you go, the winds will turn southwest, then, even further up, they blow more from the west, causing the thunderstorm to turn and spin.
Meanwhile, strong "speed shear" — meaning, the winds get faster the further up you go — will aid in the ability of air to "roll" horizontally and potentially be tilted into a funnel or tornado.
A question from Arnold:
So if all that wind stuff is going to happen, why aren't we freaking about about tornadoes?
Because there remains a big question about whether there will be enough "stuff" (called CAPE – convective available potential energy) to make the clouds that make the storms that make tornadoes.
To be clear — there will be a squall line — but storm needs a lot of energy to create an upward motion and make a tornado, and the models are showing kinda-not-that-much-but-maybe-enough CAPE to pull it off.
The afternoon suite of model runs (12z) are showing some CAPE for the squall line to feed on. The GFS has finally come around, but still has very little (233 j/kg). The NAM4 has just a bit more (306 j/kg). SREF is in that range as well. Even the Euro has CAPE in this range, under 500 j/kg. That's not a lot, y'all, and it's why the tornado concern is not has high as the wind concern. However, every one of the models above says this is a tornado environment even with these meager CAPEs.
CAPE will be very closely watched tomorrow as the event unfolds. If we starting seeing CAPE jump that 500 j/kg threshold after noon tomorrow, concern will increase, maybe dramatically. Even if that doesn't happen, and CAPEs stay low as expected, tornadoes are still possible embedded in the squall line itself.
When?
On the early side of a 7 PM to Midnight window.
Please don't plan to do a bunch of things right up until 7 PM. Our skill in hitting these ETAs isn't good enough for you to do that. The closer you are to this window, the more peril your plans may be. Stay tuned, the timing can change. We will update it frequently tonight and tomorrow.
What About Supercells Before the Squall Line?
Yesterday we mentioned the threat of a supercell or two racing out ahead of the main squall line. When this happens, supercells do not have to compete for energy and are especially dangerous.
Right now, we don't think we'll see supercells ahead of the line, but we don't want to rule it out. Reasons we don't think we'll see supercells are:
*NWS-Nashville thinks the atmosphere will be "capped" before the line arrived. This has to do with a temperature inversion aloft, but we don't want to get too far into the weather-weeds here. "Capped" means it can't happen.
*The expected lack of overall CAPE.
Summary
The Storm Prediction Center has put us under an Enhanced Risk for severe weather on Tuesday.
This means the probability of a severe wind event or tornado occurring within 25 miles of you is 30%.
We are in the "Enhanced" category, mostly for the wind threat.
Probability of hazard type:
Strong confidence in the wind fields, not so much confidence in the CAPE and timing:
After the Storms:
This website supplements @NashSevereWx on Twitter,

which you can find here.