Current Radar 
Measurements are still coming in (you send in yours on Twitter via #tSpotter, include photo/location, and measure from a hard, flat surface), but here's the preliminary total from NWS-Nashville: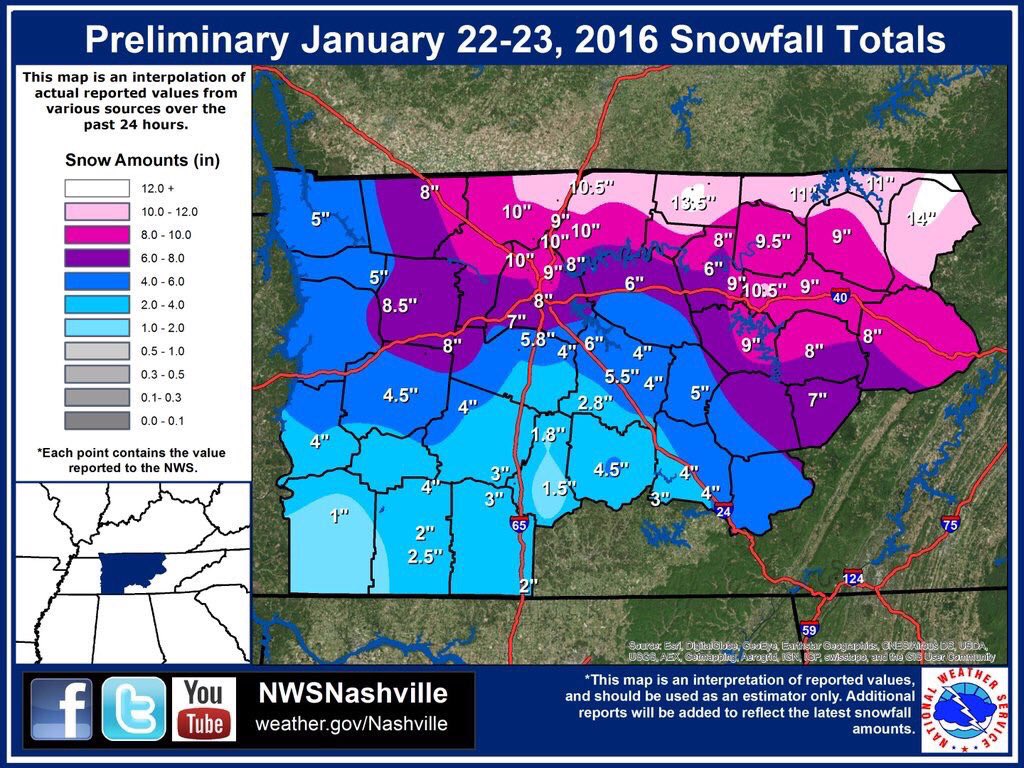 Those who got the early start Friday morning — when the very heavy snow fell — were the big winners.
Also, Nashville's 8.0″ official snowfall at the airport Friday was the most snow on the ground at one time since January 7, 1988 when 8.2″ accumulated. March 19th, 1996 had an 8.7″ daily total, but there was never more than 3 inches on the ground at a time. "A good deal of that 8.7 inches melted as it fell and never accumulated on the snowboard," according to our NWS.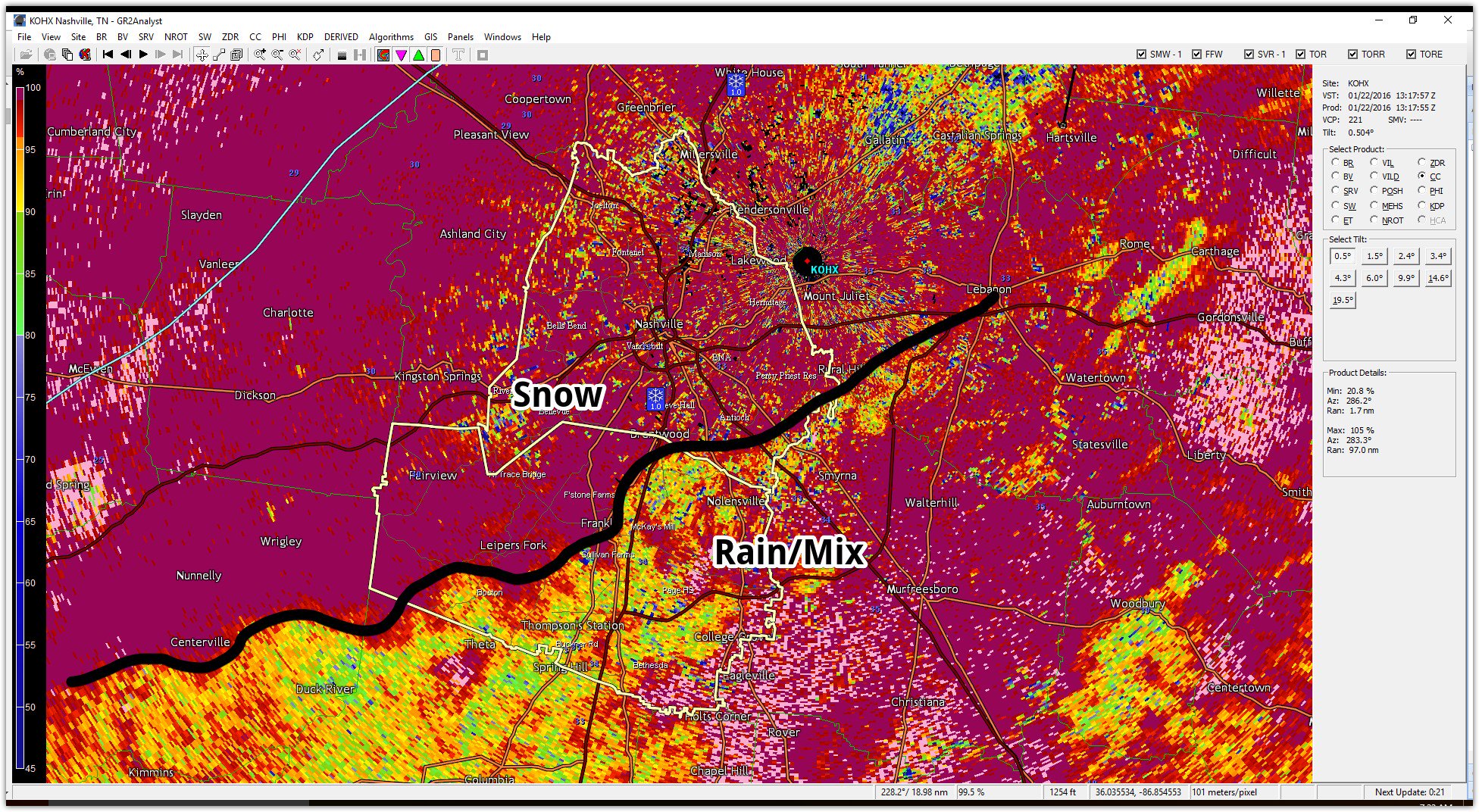 That accumulation map is subject to change. For a giant list of freezing rain and snow reports across Middle Tennessee, check this out.
NWS issued a Travelers' Advisory regarding lack ice, refreezing, and road conditions: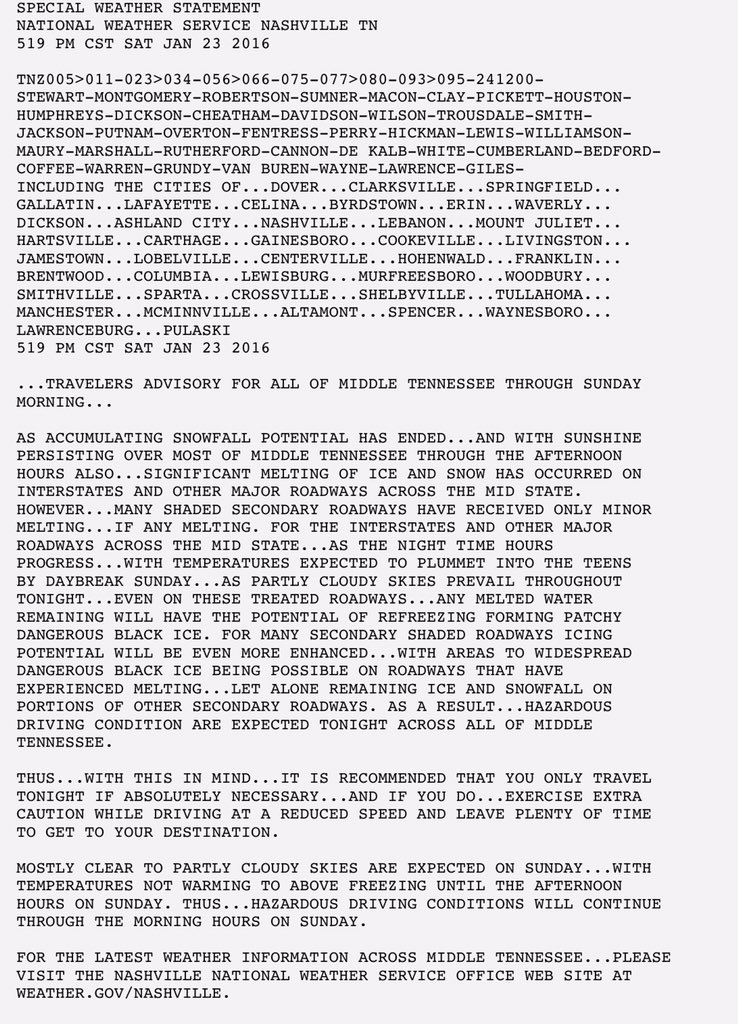 View cameras on local interstates and get other travel info via TDOT Smartway.
Here's one example of road conditions this afternoon: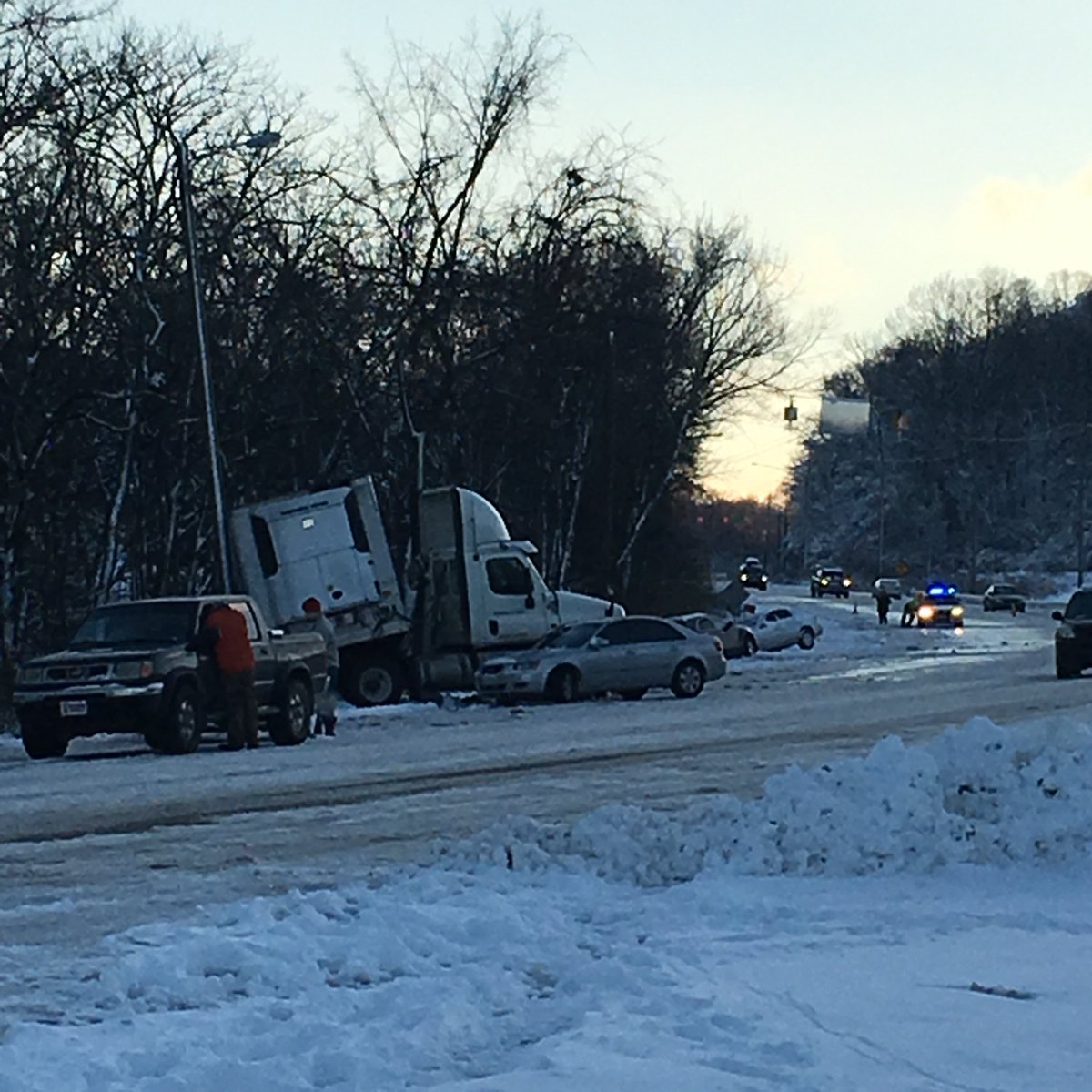 NWS: "even with some help from the sun, it doesn't look like temps will get above freezing today thanks to the snow cover and cold air advection (arrival of colder air trailing the departing upper-level low)."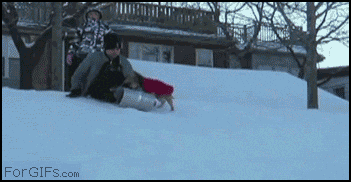 Tonight, the wind will calm down, and the skies will clear. Add to that our snow cover, and low temperatures will plummet. Our low is 15°.
Sunday, NWS is hoping south winds at the surface and southwesterly winds at 5,000 feet will promote above-freezing temperatures to help melt a bit — certainly not all — of the snow off the roads. Our high will be somewhere in the upper 30°s.
However, temps are expected to return below freezing Sunday night (low 28°), causing refreezing and a lingering – but reduced – travel hazard for the Monday morning commute.
Substantial snowmelt will occur Monday. Temperatures rising into the 40°s (high 49°) and rain Monday night will help melt and wash away our snow pack.
Temperatures are not expected to fall below freezing Monday night or Tuesday morning, so no refreezing concern.
The end of the week and next weekend looks to dry, with temperatures slowly climbing each day. We will be extending some nice southern hospitality to the NHL community for the All-Star game, potentially even delivering 60° on Saturday. However, another shortwave may approach Sunday to return precipitation chances, but that's way too far away to discuss meaningfully.
This website supplements @NashSevereWx on Twitter,

which you can find here.