Current Radar 
@ClayTravis #SealTeamClay worthy??Our #NashvillleSnow Day #SnowBB8. #BB8 ☃❄️ pic.twitter.com/8eQDONunEQ

— Jeremy Scates (@jscates) January 22, 2016
At 7:17 AM, if you were on the NW side of this line, you were on your way winning the snow lottery. Snow was accumulating as an impressive convective snow band raced north up 65.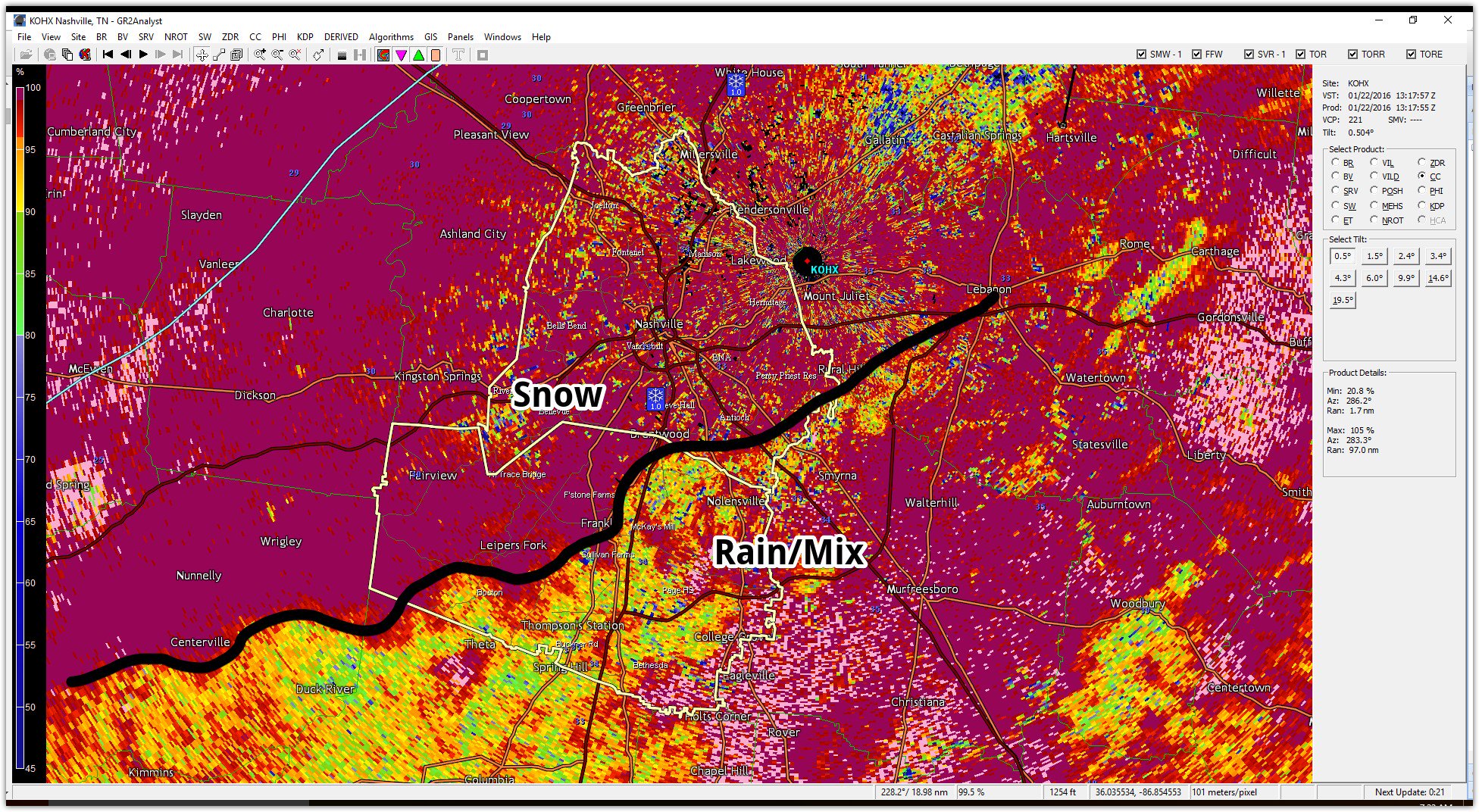 Those on the SE side of the line, aka the Rain/Mix side, were getting left out of the huge accumulating snow. Why? Above-freezing air sitting aloft (between 2,300 feet and 4,000 feet) had not yet cooled, so instead of snow, you got rain and sleet.
The Deformation Zone — an area of intense convective snowfall — set up along and N of I-40 into Davidson County, where, in about 5 hours, we got an entire season's worth of snowfall.
It was so intense, there was thundersnow:
Confirmation of ongoing thundersnow in Nashville at 8:04 AM pic.twitter.com/nK5lHAIFCn

— NashSevereWx (@NashSevereWx) January 22, 2016
You can hear it:
@NashSevereWx thundersnow in Oak Hill pic.twitter.com/fB6MQpmjKE

— jka (@nashtnarchitect) January 22, 2016
We aren't done counting it, but right now it appears Inglewood in Davidson Co is winning with 9″.
Although snowfall rates are tapering off tonight, the HRRR and NAM4 models don't think the last of it will pass 65 until 10 PM. Areas west of 65 should see another 1″ tonight, with higher totals, as much as 2″ to 4″, the further west you go (per HRRR, NAM4 models).
When the snow ends at your place, please tweet a report to @NWSNashville by including #tSpotter with a ruler, photo, general location, and amount. If it looks like it's on the grass, it doesn't count, so let us know what your tape measure or ruler is sitting on.
Saturday – s

NO

melt – Early 23° High 31°
A cold front will sweep through and reinforce the cold air into our area. 14 MPH winds will produce biting wind chills.
Freezing temperatures and overcast skies (gradually clearing after dark) will prevent snowmelt. Roadways – especially untreated/secondary roads — will still be dangerous during the day.
Clouds will clear out Saturday evening, allowing for a very cold overnight — low of 11°. ELEVEN. Stuff's going to freeze very hard, putting church plans Sunday into question.
Sunday – Trying to Melt – Early 11° High 39°
Sunshine plus temps finally rising above freezing after noon will start the melting process. But after a low of 11°, getting a good melt with a high of only 39° will be difficult. But, we should see some road improvement.
Overnight temps into Monday morning should barely reach freezing. We'll wake up to 32°, then watch the temp rocket up to 49°. Rain moves in Monday night to try and wash the snow away.
This website supplements @NashSevereWx on Twitter,

which you can find here.