Current Radar 
Rain is arriving from the south tonight. Consult the above radar or your favorite radar for current conditions. We may even see a few thunderstorms, but nothing severe, and no icenadoes.
The Big Picture
A counter-clockwise spinning storm system will track northeast across southern Mississippi, central/north Alabama, and into east Tennessee on its way to the Mid-Atlantic states, where snow may be measured in feet instead of inches.
Details
That system will spread rain into Middle Tennessee tonight. We'll use the latest run (18z) of the GFS to illustrate:
While that red L is SW or S of us, we'll be on the warm side, and get rain. That's why, tonight, we don't think the temp will drop much — that south wind will be blowing in.
When the red L moves NE, it'll shut off our warm south air, and the colder air will start to arrive.
So, when will the transition from rain to snow occur?
Supercomputers are trying to figure that out.
This is the biggest question — not only will it influence how we plan our Friday, but it will also determine how much snow we get.  If we knew, we'd tell you!
Yesterday, the models thought it would transition to snow in the morning. This morning, they said the evening — a smooth 12 hours later.
Right now they're starting to come back to a morning changeover.
GFS model says 10 AM.
NAM4 says 10 AM.
NAM says 10 AM.
GGEM says 10 AM.
Euro says around noon.
SREF says around noon, but curiously, it also says the surface temp doesn't hit freezing until 6 PM. That's meteorologically possible, but hard to believe.
There is remarkable agreement on this run, but I'll bet there will be more changes to this forecast tonight. I still think it'll transition to sleet-snow later — in the afternoon — but that's mostly my gut after watching the HRRR transition pattern, which seems to suggest a mid-afternoon transition.
NWS-Nashville has gone with this map: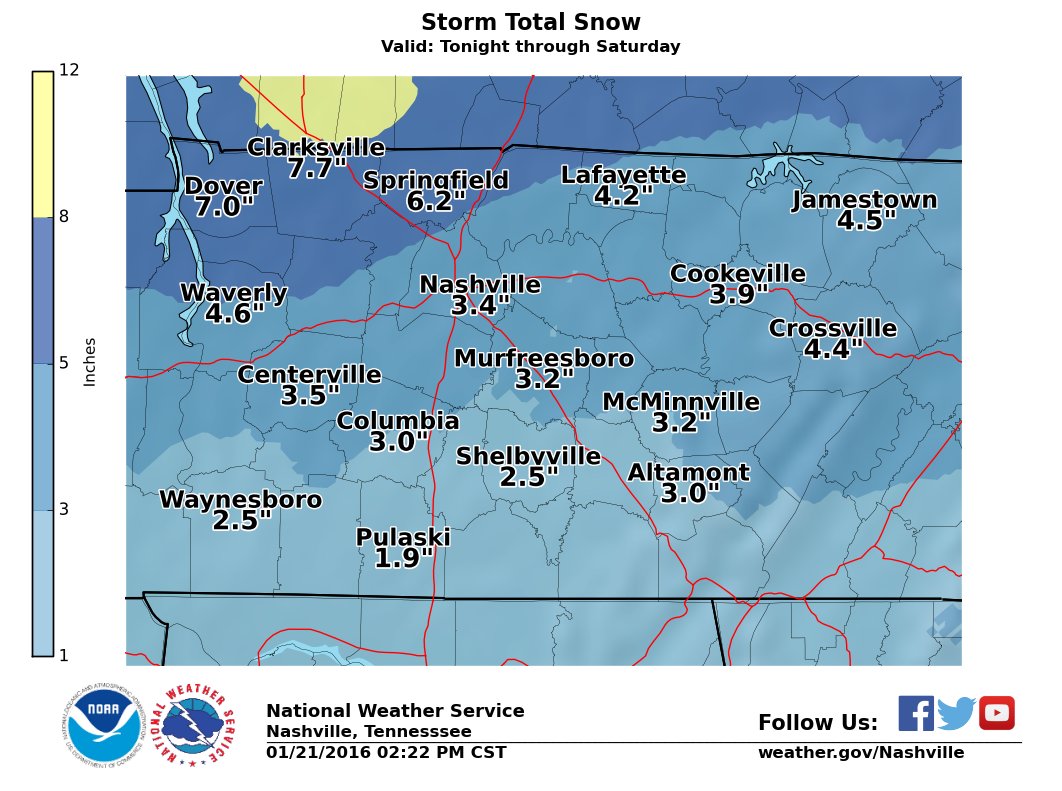 Because west Tennessee and NW Middle Tennessee are further away from the big red L, they'll likely cash in on a huge snow event, maybe even 6″+. Models have occasionally flirted with stretching those big totals into Nashville, but most pin the big snow to our NW.
NWS-Nashville's 3.4″ total above reflects a belief we'll be on the "tapering down" side of this event. This makes the most sense. However
The bust/boom potential is real and spectacular, which is why NWS-Nashville put us in a "low confidence" area for this forecast. Stated another way, we could get more, we could get a lot less.
I'll bet if you tune into local news tonight, you'll get 4 different opinions.
Check out the "totals" from the models:
NAM4: 11″ (LOL)
NAM12: 10″ (child please)
GFS: 7″
GGEM: 6″
SREF: Just under 5″
Euro: 8″ for Joelton, 6″ in metro, 4″ in Brentwood, 3″ in Franklin/Spring Hill.
I think these numbers are too high and are discounting some things:
–When the transition occurs, it won't be from straight rain to snow. Sleet will signal the transition. Obviously, a lot of sleet means less snow, but the models will count it all as snow.
–That much may fall, but snow will struggle to accumulate at first. The ground will be wet and warm and will take a while for it to be cold enough to accept and pile snow. Expect flakemelt before accumulation. When accumulation starts, a layer of ice is likely to lay underneath.
–Snow total accumulation models are notoriously over-dramatic.
Also bothering me about this idea of a big snow is that earlier model runs were hinting at the ingestion of a bunch of dry air in Middle Tennessee while the big snow  hammers west Tennessee. If that verifies, it would be a forecast tragedy.
I like the low end of the range. From last night's poll, looks like you do too:
Right now, it's hard to think it will be nothing, but stay tuned. The truth is that we don't know, we're doing the best we can. I'll live/die with NWS's call at 3.4″. This will soon, thankfully, be a "nowcasting" event, that glorious time when we can put down the models and observe what's actually happening.
Temps Friday night will drop below freezing, and pretty much stay there overnight. Early Saturday morning, the snow should be ending, but we'll still be cloudy and unlikely to rise above freezing, so all the stuff that falls will freeze and stay that way at least through Sunday afternoon.
Travel/School/Flights
When the transition happens, don't drive. If you're wondering about a specific route, ask @TrafficJamSam or TDOT's Smartway map.
I don't know if school will be cancelled.
We don't know if your flight will be canceled.
–All three of things depend on specific factors outside the scope of things we know about.
We will add new updates tonight to Twitter.
This website supplements @NashSevereWx on Twitter,

which you can find here.