Current Radar 
Refreeze Tonight?
Temps have hovered at and just above freezing this afternoon. After dark, we should be at or below freezing. Beware of black ice, especially on bridges and overpasses.
By midnight, we should be at 30°, where we will hold for most of the morning before dropping to 28° just before sunrise.
Fog is also a concern. In places that are foggy, the black ice concern increases. Be careful! A Freezing Fog Advisory is in effect: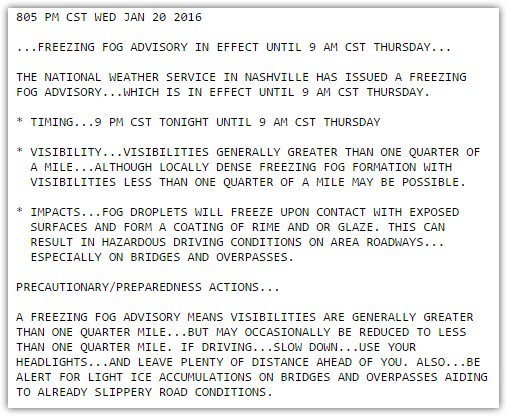 Rain, Maybe Thunderstorms, Thursday 
After sunrise, temps will rise above freezing. Look for 37° by noon, with a high of 40°.
Meanwhile, there will be rain, maybe even some no-worry thunderstorms, on the way as the big northeast-moving weather system passes to our south. Rain should begin sometime after noon, but more likely in the evening hours.
Rain increases early Friday morning as the low crosses near Birmingham. Notice the counterclockwise motion of the winds, drawn in black, around the center of the storm. That'll be important Friday.
Winter Storm Watch Friday – Accumulating Snow Expected
As the low passes to our east, we'll be on the north-west side of it. That's where you want to be to get some snow.
Temps at 5,000 feet should be sub-freezing — so, for right now, we aren't expecting a 'warm nose" like we saw Wednesday morning, turning what should have been snow into sleet and freezing rain. Friday's event should be all snow after a very brief transition period from rain to sleet to snow.
Friday's high temp will be seen in the wee hours of the morning. As soon as the wind starts blowing in that cold air from the NE and N, it'll only get colder from there, dropping temps into the 20°s Friday night and late Saturday morning.
For this reason, NWS-Nashville has issued a Winter Storm Watch from 6 AM Friday until noon Saturday.
How Much?
Our NWS says 3″ to 5″ across the area.
Our local results may vary.
The Models
Before I review the models, a reminder:
SREF
The Short Range Ensemble Forecast (SREF) is the average a several smaller models. It is well regarded in these situations. I think it makes the most sense. I like this the most.
Snow totals in the models will vary based on the location of the "deformation band," an area of intense snowfall that frequently develops on the NW side of the low. So, everything written below assumes we'll be on the NW side of the big red L, and there is reasonable confidence we will be. As for the deformation band itself — models disagree where it'll set up. Where it actually sets up is the $1,000,000 question — this determines whether we will have a major snow event, or just a meh snow event.
The first model, the NAM12, is pro-deformation-band-on-us.
NAM12 Model
GFS Model
NAM4 Model
Even if we reduce the snow ratios here, this is an entire season's worth of snowfall falling in one day.
Other Models
The Canadian model pulls the deformation band to our NE, but we still get 4″ from it. The Euro, however, HAMMERS us just like the NAM4 does — a foot of snow in 24 hours — the same disclaimer that applies to that model applies here. 6″ or so seems more reasonable.
Qualifiers
Take the low side on this, but recognize it's all about that deformation band. It'll be like winning the lottery — you can dream about it, and convince yourself it's a reality — but you're more likely to win 3″ than 12″. So don't say a foot of snow because we are not saying a foot of snow.
Right now, we think 3″ to 5″.
Reasons to think "low" include:
–Again, that deformation band may miss us.
–Rain and above-freezing temps Thursday night and Friday morning will limit freezing and accumulation, so it may take a while for it to "stick." This is one reason think the foot of snow is way too much.
–I never feel good about a snow forecast when we're depending on the "back end" of a departing system to get us cold enough for snow. Many times, the cold temps arrive a few hours later than forecast, and by the time they arrive most (or all) the precip has ended. This happens all the time here. However, this system is not typical, and with all the models tossing that deformation band close by, we need to be ready for it.
Social scientists say we all have an information bias. We see what we like, and if we read something that supports what we like, we discount information that contradicts it. This is especially true in these situations. Those who love snow read a forecast like this and say "they say a FOOT of snow,"' then immediately forget everything we said about it not being a foot of snow, and when we don't get a foot of snow, they holler. Others who love to criticize the forecast, secretly believing themselves geniuses and forecasters idiots, say "you said 12 inches and we got 2, you idiot" which is usually followed by an absurd conspiracy about ratings or meteorology's secret alliance with the Bread & Dairy Overlords. Others surprised by the 4″ claim they were only told it would snow 2″. There are all types. Thankfully, none of these people live in Nashville.
The Weekend
Any meaningful snowfall is going to wreck travel plans this weekend. Temps will fall through the 20°s overnight Friday into Saturday morning. We might — just maybe — eek briefly above freezing Saturday, which means limited opportunity for snowmelt until Sunday afternoon, when the high will be 41°.
More on this tomorrow.
This website supplements @NashSevereWx on Twitter,

which you can find here.