Current Radar 
Merry Christmas! – Heavy Rain, Areal Flood Watch, Thunderstorms Also Possible – High 65°
Heavy rain is here.
An Areal Flood Watch is now in effect for Davidson and Williamson Counties.Here's the official text of the Watch: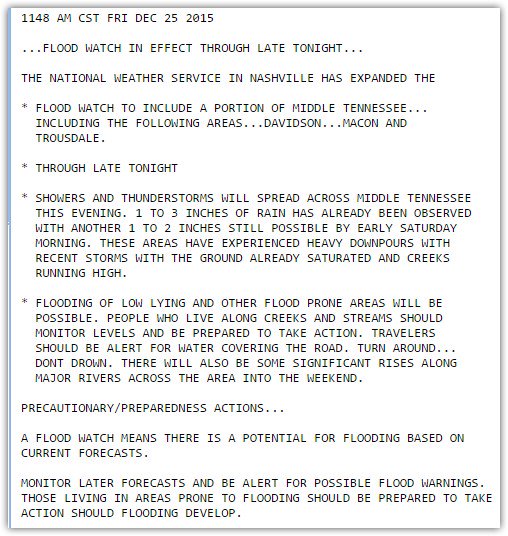 Flooding potential seems limited by the unexpected arrival of a cold front:
The cold front has come further than forecast, now bisects us from SW to NE. pic.twitter.com/RhBMF6eRlq

— NashSevereWx (@NashSevereWx) December 25, 2015
Those SE of the front can expect at least some light rain and warmer/humid air. The other side of the front features much cooler and drier air. This front is especially expected to lift north of us tonight, keeping us in the warm/humid area.
At 10:30 AM, the Storm Prediction Center removed us from all severe thunderstorm risk outlooks.
Look for updates throughout the day on Twitter @NashSevereWx.
The Weekend
The bulk of the rain should end Saturday morning as the front lifts north of us.
By Sunday, the same front that will have lifted north on Saturday is expected to return, delivering more rain. In fact, a LOT more rain.  The Titans game looks to be bog, but there is emerging hope the rain will stay away:
Too soon to draw conclusions about a Titans game rainout. GFS model has the rain holding off until later Sunday. pic.twitter.com/EolbfIi1Yk

— NashSevereWx (@NashSevereWx) December 25, 2015
The Next Storm System?
Flooding concerns will be heightened Monday with the next storm system. From now to Monday night, 3″ to 5″ additional inches is forecast.
Severe weather remains possible Monday, but it appears more questionable than it appeared yesterday. The Storm Prediction Center has not outlooked our area for severe weather on Monday, and until it does, we won't dig too deep into it.
Storm Survey Results
There were three tornadoes in Middle Tennessee Wednesday night. The first, in Linden, was an EF-2, maxing out with 115 MPH winds. It traveled 14 miles. Along the way, it struck a home and killed two people.
The second tornado struck the Lutts community in Wayne County. It was an EF-3, with 157 MPH winds, and was 800 yards wide. It was on the ground for exactly 60 minutes, having traveled 50.6 miles, and ended in Maury County.
The third tornado came out of Alabama into Wayne County. It was rated EF-1 for 110 MPH winds. It traveled 3.6 miles.
For more details on these tornadoes, click here.
This website supplements @NashSevereWx on Twitter, 

which you can find here.