Current Radar 
Severe Weather Risk Increases
The NOAA Storm Prediction Center has upgraded our risk from Enhanced to Moderate – level 4 of 5 on the scale of risks for severe weather. Updates to their outlook include adding wording for long track tornadoes. They are calling this a potential outbreak of severe thunderstorms. Nothing major has changed in terms of thunderstorm timing, but they believe that the threat for severe weather has increased.
Above are the probabilities from the Storm Prediction Center. Of particular note is that the probabilities for tornadoes and long-track tornadoes have increased substantially. The same is true for the threat for damaging straight-line winds. This does not necessarily mean tornadoes are guaranteed, but it does mean than any severe thunderstorms that develop will be capable of producing potentially strong tornadoes. These storms are still expected to be scattered along a broken line, so — again — there are no guarantees we will see a storm in Davidson and Williamson Counties, although current model guidance suggests that we will.
ETAs can be found here: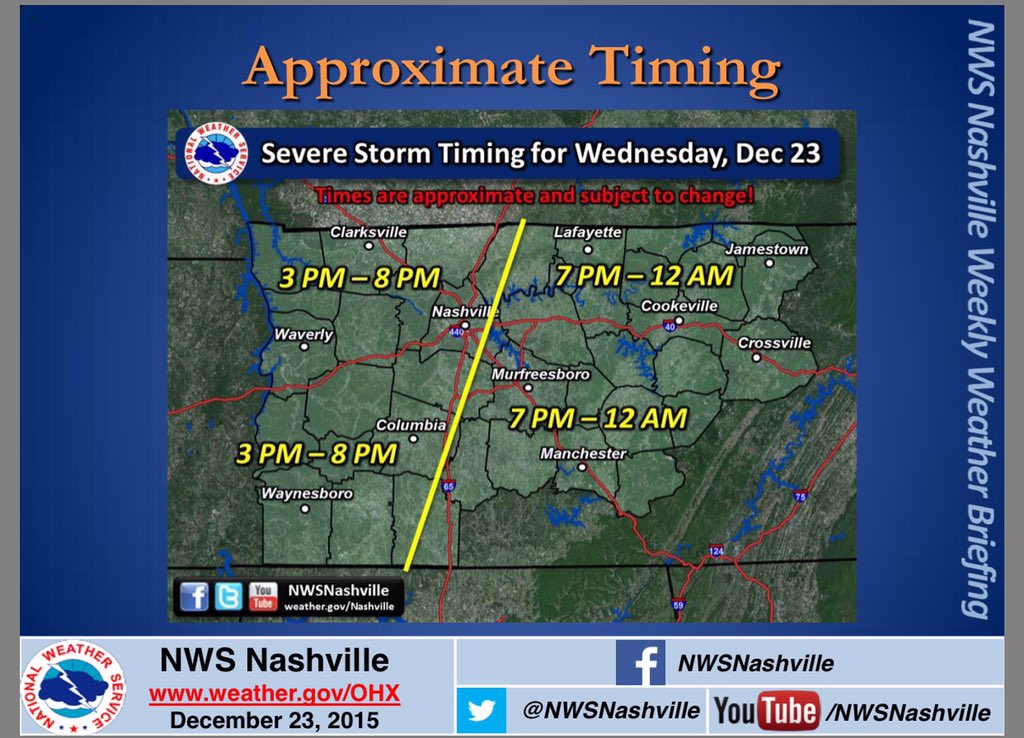 Also, this:
ETA still 3-8 PM.
Rd 1: supercells ahead of the main event ~ 3 PM. This is conditional, but impact potential large.
Rd 2: 6-7 PM Main event.

— NashSevereWx (@NashSevereWx) December 23, 2015
It's just speculation, but we will probably see a Tornado Watch issued later this afternoon if the storms do in fact develop out West.
No warnings will be posted to this website, which will be updated less and less the closer we get to the event (so we can focus on Twitter). Consult multiple reliable sources for weather information, including local TV stations (2, 4, 5, 17). You can find us on here on Twitter @NashSevereWx.
This website supplements @NashSevereWx on Twitter, 

which you can find here.