Current Radar 
Tonight – Rain
HRRR expects rain to continue tonight, gradually tapering off in time for the morning rush-hour:
We expect a few weak thunderstorms embedded in the rain, posing no strong or severe concerns. Some downpours should be heavy, but overall, just a gross night, nothing more.
Tuesday – Daytime Break in the Rain, Then Light Rain Returns at Night – Early 54°, High 67°
Not expecting much rain at all Tuesday. What little we see is more likely to show up in the evening
Wednesday – Severe Weather Concerns – Early 61°, High 74°
The Storm Prediction Center does not update its "Day 3" outlook until early the following morning, so we'll have to wait until early Tuesday morning to see if this will undergo revision. Right now, here's where we are, right on the line between 1 and 2. (Keep reading).
:
What Kind Of Storms Are We Talking About?
Supercells producing large hail, locally damaging wind gusts, and a couple of tornadoes all appear possible. (SPC Day 3 Outlook).
The primary threat, however, is straight-line thunderstorm winds. (NWS-Nashville Forecast Discussion, 3:40 PM). Such winds are almost always the primary threat in these setups, but do not discount hail, tornado, and flooding potential.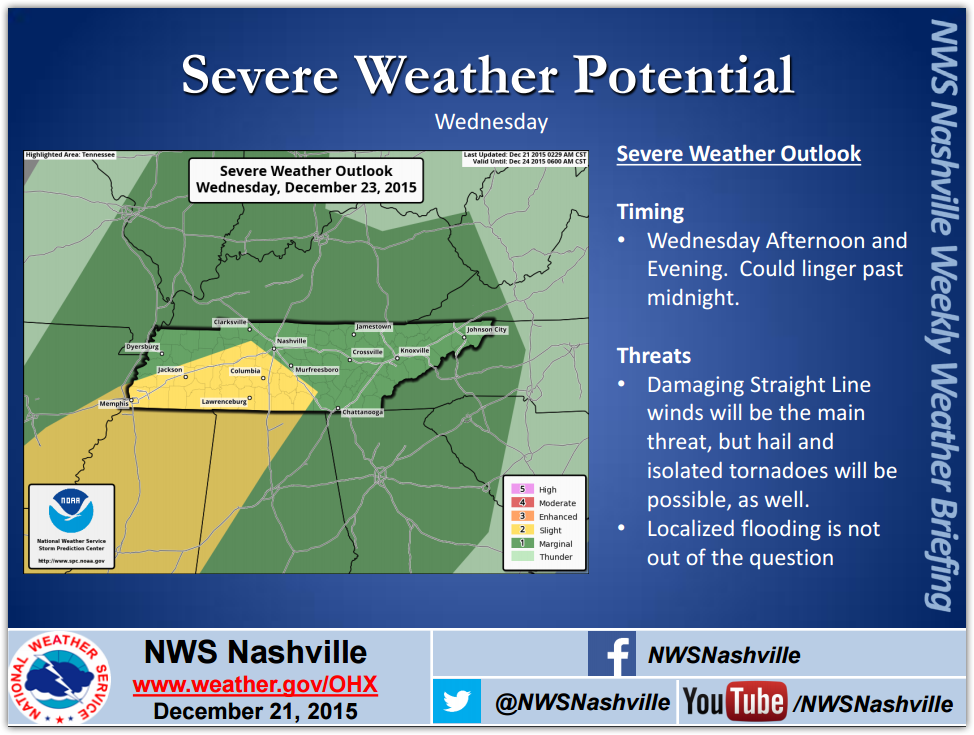 Storms should be moving NE, which means they'll move from the SW toward the NE.
Emphasis: Do not forget about the flooding potential. We've been soaked today, we are getting a soaking tonight, and we might see a little bit more rain Tuesday. Precipitable water totals for Wednesday will be high, meaning we might see localized flooding, but even if we do not see that, these storms will be able to deliver heavy ponding and visibility problems for drivers — these threats traditionally pose more danger than the winds.
Timing/Travel
"The timing of the severe potential looks to be late afternoon into early evening for western areas [in Tennessee], mid-evening into the overnight hours elsewhere." (NWS-Nashville Forecast Discussion). That puts the timing for us at night, likely around 9 PM or so, give or take several hours.
If this event happens, travel may be dangerous in the yellow-shaded areas seen above. Leave early and arrive early, before the weather arrives. Those of you planning to drive south into Alabama or Mississippi, or west toward Memphis, on Wednesday should reconsider travel plans in consultation with weather sources at your destination. For North Alabama, @simpsonwhnt, Central Alabama, @spann, for Memphis, @memphisweather1, and for Jackson MS, @NWSJacksonMS. There are also several other reliable social media sources of weather information.
More Data/Comments
Analogs continue to show the highest risk to our southwest.
Our risk isn't negligible, but it's not the epicenter of expected storm activity. That won't matter to you if a bad storm hits your house. All weather is local.
Forecast Soundings paint an ominous picture. The usually conservative — after all, it's an ensemble — Short Range Ensemble Forecast reveals a tornado-capable environment as early as 3 PM Wednesday. By 9 PM, it starts to really go tornado-crazy, sending several parameters into, frankly, frightening levels. It also fattens up hail sizes well beyond 1″. When I saw these this morning, and they were still there during the newer runs this afternoon, I was like (except imagine an attractive man):
The numbers are so large, they're almost hard to believe. I even hesitated to write about them out of concern it may be overplaying the event, but it's not cherry picking the scary stuff — the GFS and NAM models paint a similar picture.
All that said, it's still too soon to seriously consider these legit given the amount of variability within the various members of the ensemble. If these numbers are the same this time tomorrow, I expect all sorts of alarms will be raised.
Uncertainties Still Exist. So much can happen to downgrade the threat. Early morning showers and storms well to our south could cut off our flow of instability and good surface moisture, which the models currently think we will have in abundance. The mid level dynamics may not cooperate like the models expect. We might see all these terrible severe weather ingredients come together, but not here in Middle Tennessee. We are not promising you severe weather on Wednesday. We want you to prepare for it, because it might come. Forecast accuracy and confidence this far away is not as good as we wish it was. Take the forecast seriously, but take it understanding its limitations and failure potential.
What's Next? I've got a feeling we'll see a big revision from the Storm Prediction Center when new (which will be the Day 2) outlook is released in the morning. Then, local NWS offices will follow its lead. The men and women at SPC are very, very good at this. Here's hoping they've figured this all out and we won't see squat on Wednesday.
More updates can be found on Twitter @NashSevereWx. This website is only a supplement to our Twitter feed. Consult multiple reliable sources for your weather information.
Christmas Eve & Christmas?
Although we cannot rule out rain, we still think there is a decent chance Christmas Eve services will be held in relative peace. That peace should last into the morning hours on Christmas Day, only to see more rain and thunderstorm chances return late Christmas night and into Saturday morning.
This website supplements @NashSevereWx on Twitter,

which you can find here.