Current Radar 
Today – Clouds Moving Away – High 59°
Cloud cover suppressed temps today.
We are already seeing clearing in NW Tennessee:
We may see the sun before dark. It'll be close.
Warmer Thursday & Friday
Friday, the pattern shifts as a scraggly group of widely isolated showers blows our way from the SW:
These are light, intermittent, "off/on (mostly OFF)" rainers and drizzlers. This won't rain anything out. NWS only forecasts 0.02″.
Saturday – More Scraggly Rain Chances; Record Temp? – High 71°
Record warmth likely Saturday. Record for Nashville is 69°; we're forecasting 71°. Record for Crossville is 64°; we're forecasting 67°.

— NWS Nashville (@NWSNashville) December 9, 2015
The issue will be rain. Warm southwest winds should blow us some scraggly, intermittent rain showers, much like Friday.
The question is: how long will said showers persist on Saturday?
The GFS model has us rain-free by Saturday night, with light rain confined to west of the Mississippi River. The European model does the same thing, with high pressure to our situated to our east to keep the rain away. Rain Saturday night nevertheless remains pretty iffy, mostly because of all the warm, humid air arriving. We may squeeze out a shower or two; NWS-Nashville accounts for this by only attaching a 20% chance of rain. If you're planning outdoor stuff, you're taking a small chance of a little rain.
Sunday – A Storm Event?
We've been banging the drum on this system since Saturday. Today my Severe Weather Concern Alarm remains on "interested, but data remains inconsistent."
For starters, the Storm Prediction Center introduced a severe weather outlook area for Sunday, Sunday night, Monday morning, to the south of us: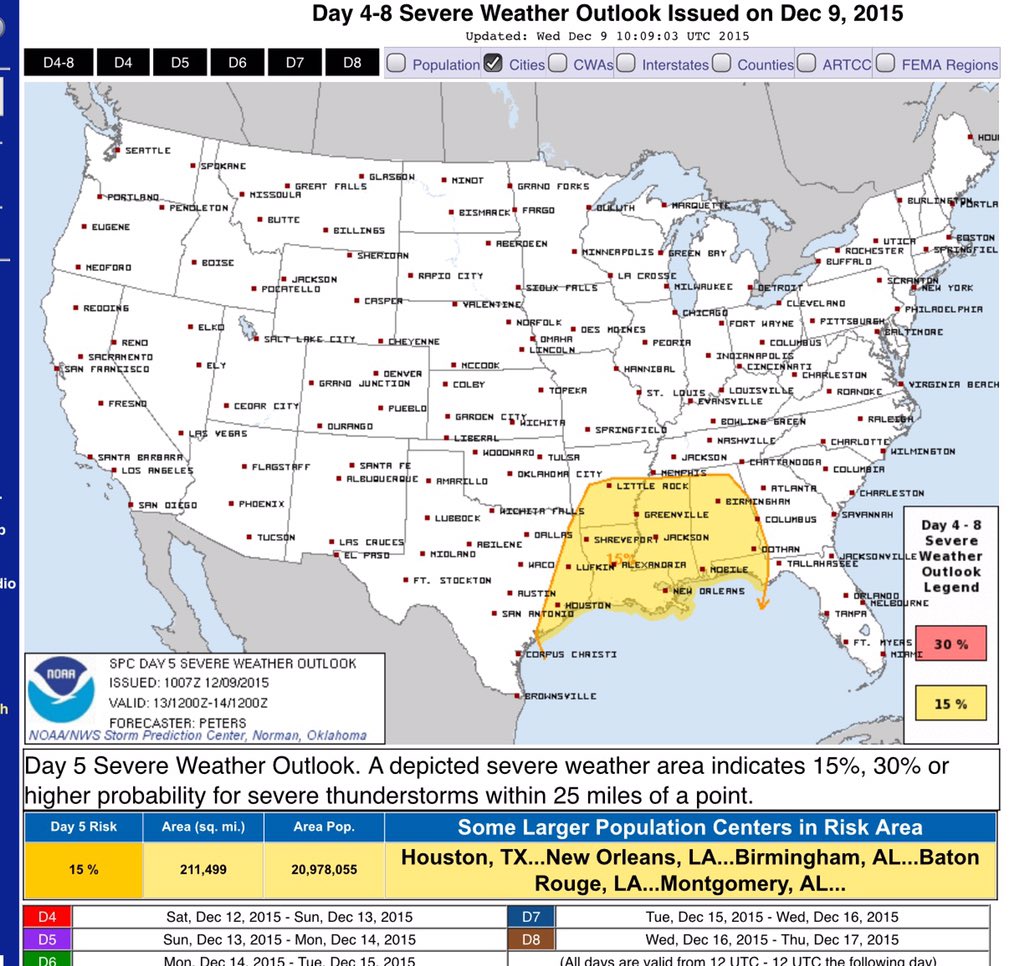 Why south of us? SPC did not explicitly say, but it looks like the lack of low-level instability here in TN is keeping the threat to our south.
As NWS-Nashville pointed out this morning, much (but not all) depends on the track of the surface low pressure (abbreviated "SLP"). The models continue to disagree run to run and model to model as to where exactly the SLP will be. The SLP will pass north of us, if it's far away (the Great Lakes), our severe weather threat diminishes, but if close by (tracking near the Ohio River), our severe weather concern increases.
Where do the models predict the SLP will be?
The last two runs of the European model track to the SLP north of St. Louis and, most recently, into Wisconsin. Good news for us, especially considering earlier runs of this model put it close by.
The last two runs of the GFS model have the SLP closer, in a more dangerous place for us. The 6z model run has it here:
The 12z run of the GFS model, newer and better than the 6z, has it a bit further north:
Interestingly, this model thinks the surface trough will be "positively tilted" six hours after the above image, which indicates a weaker system:
To summarize, we have 4 runs of the two big weather models, and they place the range of the SLP from Wisconsin to the Ohio River.
I'm doing my part:
@NWSNashville I opened a window and set up a fan to blow Sunday's SLP to Lake Superior. The bacon freshens the air. pic.twitter.com/NLAproThO4

— NashSevereWx (@NashSevereWx) December 9, 2015
We cannot have forecast confidence with this big a spread.
What's the ETA?
Today the GFS has come into better agreement with the Euro, agreeing that the system will arrive very late Sunday night into early Monday morning.
Unlike many spring systems, which need ample daylight to mature into healthy stormers, this system will supply its own dynamics and doesn't depend on the daylight. For example, the 1988 Christmas Eve tornado in Cool Springs arrived at 6:04 AM.
Supercells or Squall Line?
Probably neither.
But, a squall line is more likely than supercells.
Should You Be Worried?
No. I'm not. I talk about this in such detail not because I think it's going to be anything huge, but because this is a weather blog and that's what we talk about.
I would ask you to stay informed. This forecast will change. This has the (low) potential to be a strong storm event.
This website supplements @NashSevereWx on Twitter,

which you can find here.