Current Radar
Another Radar, Refresh to Update
Tonight – Off & On Drizzle
As you can see from the above radars, what little rain we have is coming from the south. Expect off-and-on, mostly "off," drizzle and light showers tonight.
Currently, official rain totals are 0.07 inches, almost spot-on as forecast earlier today by NWS-Nashville.
Winds are steadily out of the north, which has converted today into a chillier rain as compared to Saturday's warmer rain.
Monday – Rain – Wake Up 55°, High 67°
Our National Weather Service says it is "definitely" going to rain for most of the day Monday.
The surface low pressure system which spent the day in Louisiana will move into southern Mississippi, shoving rain and showers covering all of Middle Tennessee during the day Monday.
NWS forecasts almost 0.50″ of rain, which is more than enough to rain out baseball games and soccer practice Monday night.
Rain does not look like it will be continuous. For example, the NAM4 model at 2 PM:
However, I'm not optimistic about evening outdoor sporty stuff. Bet on a rain out.
Tuesday – More Rain, feat. Thunderstorms – Wake Up 58°, High 66°
This wet weather pattern isn't going anywhere. From Tuesday morning through Wednesday morning, an additional 1 inch of rain is expected. This should be the rainiest day of the week.
The upper-level dynamics and wind energy aloft will increase during this time, setting off a few thunderstorms Tuesday, Tuesday night, and into Wednesday, helped along by a strong speed max rolling from the Red River Valley well off to our west, then surging into Western Tennessee.
As far as thunderstorms, meh. The Storm Prediction Center has outlooked us, but the probability of a severe thunderstorm is less than 5% in this entire, giant, green-shaded area.
Rainfall totals remain impressive, but below flash-flooding concerns. The rain should finally end some time Wednesday, with a total close to, but probably under, 2 inches:
Wild Speculation About Trick or Treat
Forecast accuracy from our weather models this far away is very poor. But, just for fun — use for entertainment, non planning purposes only — here you go (updated from this morning):
Looks good!
If this model verifies, and whether it will is a crapshoot, temps start in the upper 50°s and drop from there.
The good news is that the European model agrees, and even keeps the rain further off to our southwest. It even has trick-or-treat temps starting off in the low 60°s.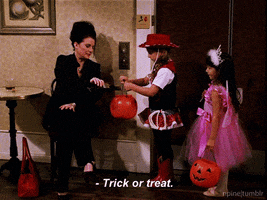 This website supplements @NashSevereWx on Twitter,

which you can find here.