Current Radar
Another Radar (refresh page to update)
It's been a while.
A line of showers and thunderstorms will move into both counties tonight.
HRRR puts the ETA of the main line around 8 PM. This is just a model, it's not the radar (see above):
The 8 PM arrival time may be delayed. Check the radars at the top of the page for updated/actual information. We'll also be tweeting like crazy.
Storms are expected to intensify as they approach. Downpours are expected to be heavy – 0.19″ is forecast. This is not a "let's keep playing, it'll blow over" night. When the rain starts, you're done for the night. Lightning is also possible.
Strong northwesterly low/mid level wind fields means our main storm concern tonight isdamaging thunderstorm winds. The probability of a 58+ MPH thunderstorm wind gust within 25 miles of you is 5%.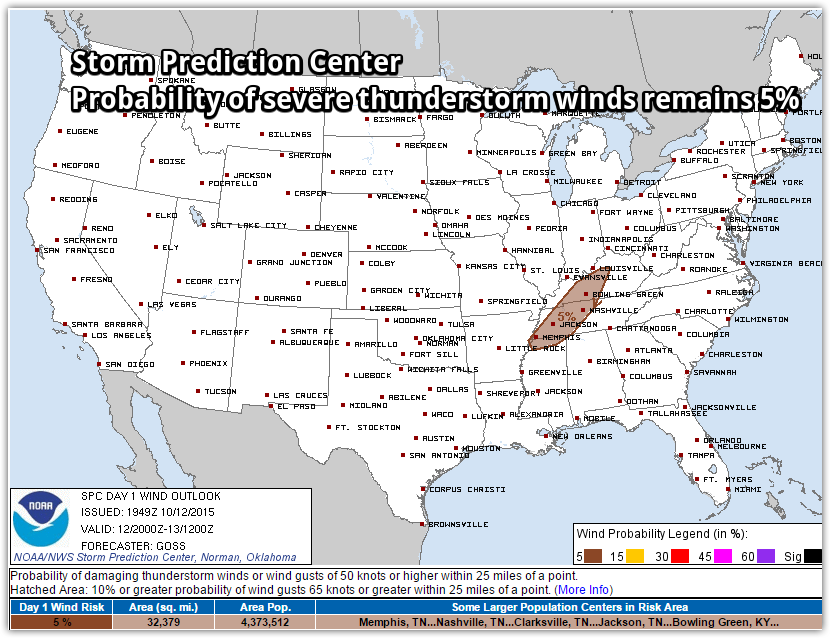 The Storm Prediction Center is highlighting the area to our W and NW for the storm potential, but it's unlikely they'll think we'll need a Severe Thunderstorm Watch:
In stormspeak, that's a low probability, but you shouldn't ignore it. Secure/tether underweight family members.
Tornadoes and hail are not expected.
Updated information can be found @NashSevereWx on Twitter, which you can find here.
After That, Cool, Quiet, & Pleasant