Current Temps and Radar
Mother's Day – Record Heat? With A Small Chance of Rain – High 90°
Nothing says record heat on Mother's Day better than this GIF: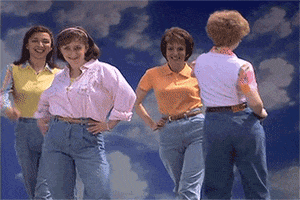 It'll be hot and a little bit humid today. Little pieces of energy lifting from the lower Mississippi Valley will approach, but there is a strong upper-level area of high pressure in place which should deflect the approaching energy, reducing our rain chances to around 10%.
Mom is not going to like the temps. The high temperature for May 10 is 91°, set in 1896. We are forecast to reach 90°.
Monday – Storms, Possibly Severe – High 88°
This morning, the Storm Prediction Center had us in its new "enhanced" risk for severe thunderstorms, but this afternoon, they downgraded us to "Slight."
On a scale of 0 (nothing happening) to 5 (cancel everything), this is a 2. Something to watch, but no reason to tear your clothes and run screaming through the streets. Here's now SPC quantifies the risk:
What are we talking about? Damaging winds and maybe some hail. We cannot rule out an isolated tornado, but concern for that right now is low.
The better storm-making mid-and upper-level energy will be pretty far north of us, and the shenanigan-inducing surface low pressure center looks, as NWS-Nashville wrote this morning, "unimpressive."
When? Rain is certainly possible all day, but the better potential for some strong storms will be Monday afternoon and evening.
The NAM4 model likes around 8 PM, but I would not bet any specific ETAs are accurate:
Will My Games Rain Out? Maybe. This isn't a prolific rainmaker. Most fields can't handle too much more than 0.10″ of rain, and that's right around what we expect…unless are unlucky enough to get a stronger storm, in which case a rain-out will be likely with about 0.25″.
We plan to update this website with fresh data late this afternoon and/or tonight.
After the rain, cooler temps!
This website supplements @NashSevereWx on Twitter, which you can find here.