Current Temps and Radar
Today's sunlight helped the melting process. Roads improved a bit.
But here comes a clipper system located in Missouri at 4 PM:
Is this another
of the ice and snow?
Not really. This isn't a repeat of the system we just had to deal with. This one is much, much smaller.
This clipper system is going to (1) refreeze some of the ice melt we saw today and (2) top that off with another 1″ or less of snow.
Models have consistently put the ETA of the snow around around 3 AM. Here's the HRRR: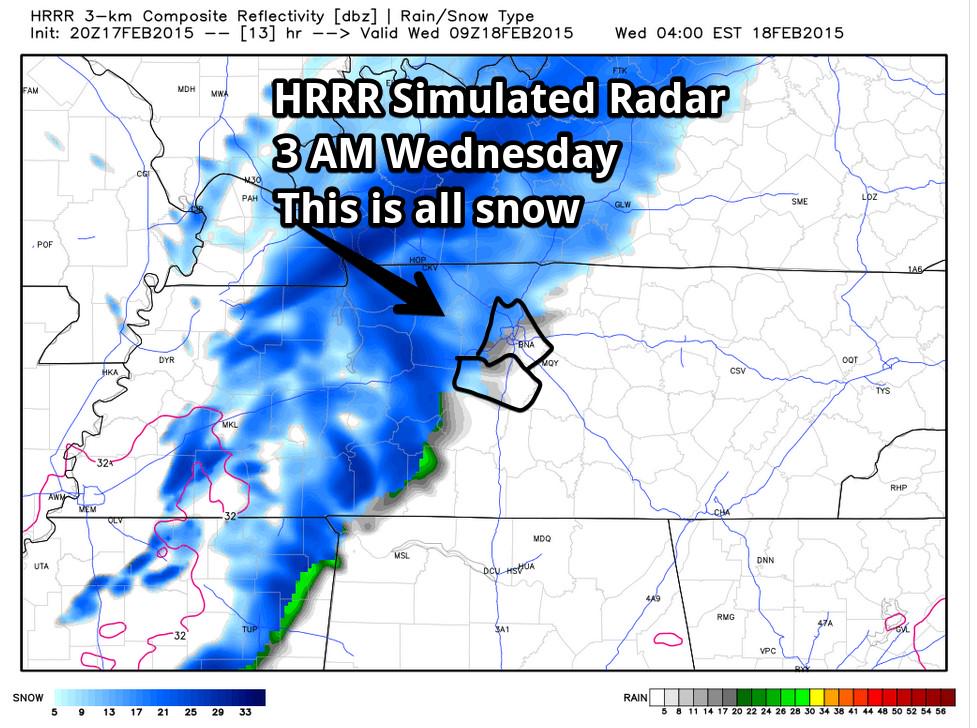 Snow/flurries should taper off around 7 AM:
For this reason, this afternoon NWS-Nashville issued a Winter Weather Advisory effective Tuesday night at midnight through noon on Wednesday.
NAM4, SREF, GFS, Euro models all think we will get less than 1″, but those models assume a 10:1 Liquid Ratio, and our NWS thinks the real ratio will be closer to 16:1, which could nudge the totals closer to 1″. All in all, still a minor event.
The NAM4 is picking up on flurries arriving in the afternoon, but that shouldn't do much to add to our accumulation.
Wednesday's high temperature is 24°. Of some concern will be the arrival of a cold west/northwest wind ranging between 11 and 17 MPH. This will drive wind chills into the single digits. There is still some concern about iced over trees and maybe a few power lines coming down.
Wednesday night, legit arctic air finally arrives, and will drive our temperature down to 6° at midnight, 2° at 3 AM, and briefly and potentially all the way down to -1° or -2° just before the sun comes up Thursday morning. We have never seen subzero temperatures this late in February in Nashville.
The forecast doesn't get much better after that.
The next system looks like it could start as snow on Friday afternoon/evening, then transition to sleet overnight, before turning to a soaking rain Saturday as temperatures rise above 40°.
This forecast will be similar to this past weekend: it's all about the track of the low pressure center. If it tracks one way, it will just be a rain event. If it tracks another way, it will be a snow event. Current indications still suggest the low will track right over our area, and produce a snow-to-rain event. Right now, we don't think this will be a winter storm, but as it was made painfully obvious this weekend, weather models aren't good enough to pinpoint the exact track of a low pressure center to enable a forecaster to communicate any meaningful level of confidence in precipitation type this far away. Uncertainty reflects understanding, not a lack of skill or effort in trying to get the forecast "right" (whatever that means).
A few other things:
Those looking for road conditions can click here or, more specifically, review the TDOT Smartway traffic cameras scattered all over the city. We are very uncomfortable advising you to drive, or not to drive, somewhere. So, we won't do it. Also, we do not track weather conditions and certainly not road conditions outside Davidson and Williamson Counties. It's not that we don't want to answer your questions, it's that we don't have enough information to do so in a responsible way.
Flight info can be found here.
We do not comment on the potential for schools to close. Yes, like everyone else, we have opinions about whether they should be closed or not, but we keep those opinions to ourselves. One small concern is that someone might mistake our opinion about closing school with an official decision. More than that, we don't have people driving all over both counties before dawn trying to determination if roads are passable.
Finally, thank you to all of you for your kind words. It's our privilege and blessing to be able to share with you the weather information we love to nerd out on.
This website supplements @NashSevereWx on Twitter, which you can find here.