Current Temps and Radar
What Was Up With This Morning's Flizzard?
We missed it. We all missed it.
Last night's forecast grids had a 5% probability of precipitation (POP) and no quantitative precipitation (QPF):
I went back and checked last night's HRRR and NAM4 models: bone dry.
At 3:39 AM, NWS-Nashville mentioned the potential for flurries which were ongoing in central MO/IL.
At 7:25 AM, we noticed this in KY: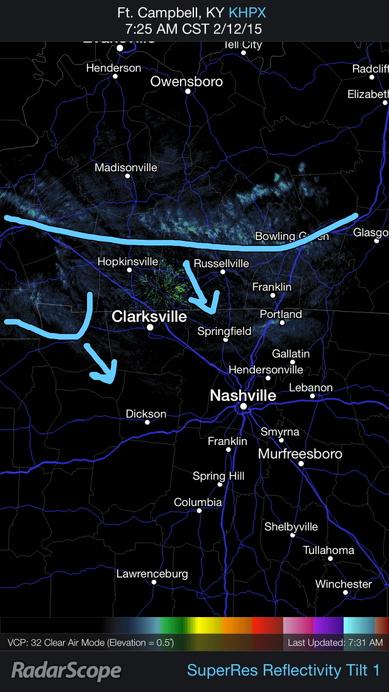 By 9 AM, it developed into a full-on flizzard: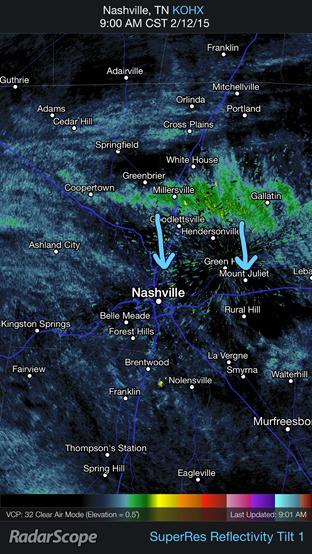 When I saw it: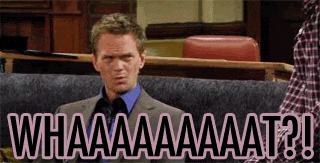 What happened? After the Arctic front blasted through, there was a little ripple in the upper levels of the atmosphere, which produced enough lift to set off no-worries flurries.
Anyways, as for this afternoon: the clouds are clearing away. We didn't get any accumulation, so it wasn't a big miss. But, yeah, we missed that one not because we weren't paying attention, but because it:
If you want perfection, read your Bible.
So anyway, most if you are reading this because you want to know what's going on early next week. Believe me, so do we! So, I'm dispensing with the normal format. Here's Friday-Sunday: It's going to be cold. Especially Sunday (bundle up for soccer practice!):
SnowPocalyspeMaggedon 2015: Is The World Ending Next Week?
If you look hard or long enough, you'll find some knucklehead posting model data with snowfall accumulation maps. These guys (usually guys, sorry ladies!) like to tweet, Facebook, Snapchat the model with the highest snow totals. A good example is the Canadian model, which has 15″ of snow falling across all of Tennessee, which is ridiculous. That's a model, not a forecast, the same way that a brick is not a house.
For the record, I get it. I realize there are some websites that are going to make a "call," and I really don't have a problem with that. Most people just want wxpeople to make the call, right? Like this?
What I don't like about this is that there is a specific accumulation range listed.  It's more complicated than that. And I think you're all smart enough to understand and accept the uncertainties and probabilities that go along with it, so why not just lay it all out there? Just putting up a number and a percentage is an OK starting point, but it should not be the end of the discussion. It should begin the discussion.
That discussion starts with NWS-Nashville's AFD (area forecast discussion):
Everyone uses models (and experience, etc) to make forecasts. For Monday-Tuesday-Wednesday, these models "continue to struggle" and provide a "wide ranging forecast nightmare of potential wintry precip types."
Hmmm. OK. It continues:
"Forecast remains quite complicated and of low confidence" doesn't sound like an 80% chance of 3″ to 5″ to me, either.
So, when you read the below, you should do so in the context of the red and purple underlined text above, and then you should remember that 12 hours ago we missed that flizzard.
Anyway, our NWS currently thinks:
1.  Precipitation could arrive as early as Monday morning, and with the arctic air mass still hanging around, light snow or sleet would be most likely.
2.  During the day Monday and into Monday night, temperatures at the surface are expected to warm at the same time temperatures at 5000 feet will warm, changing the wintry precipitation to freezing rain and ice pellets, then eventually rain by Monday night.
3.  Rain would continue overnight Monday into Tuesday.
4.  Some time Tuesday, more cold air will arrive as the system is pulling away, and change the rain back to snow, ending Tuesday night or early Wednesday morning.
One of the more unusual components of this storm will be the sub-freezing temperatures expected after all the precipitation ends. It may not be until Friday afternoon that we rise above freezing.
"Emphasis must be placed on the very low confidence with this scenario as it remains over five days out and model guidance will likely shift in numerous times until the event gets closer." (NWS-Nashville)
Let me illustrate something. The GFS "runs" 4 times a day. Let's look at Tuesday morning at 6 AM.
Here is the latest run (snow):
Here's the run — covering the same time as the one above — before that (rain):
This the same model, and even it doesn't know if it'll be raining or snowing.
This is why your app that says there's an 80% of 3″ to 5″ is crap app.
We weather guys are Sam Seaborn. We are definitely not President Bartlet.
This website supplements @NashSevereWx on Twitter, which you can find here.