Now
Quick Summary, Next 48 Hours
Unseasonably Warm Temps

Rain On The Way

Winter arrived at 5:03 PM Sunday. So, naturally, we should expect mid/upper 50°s!
Day By Day
Monday  41° / 56°
Warm southern winds will pump in unseasonable warmth & low level clouds. You may see a drizzler squeeze out of the clouds during the day, but we are not expecting any meaningful chances of rain until late Monday night.
Tuesday  51° / 60°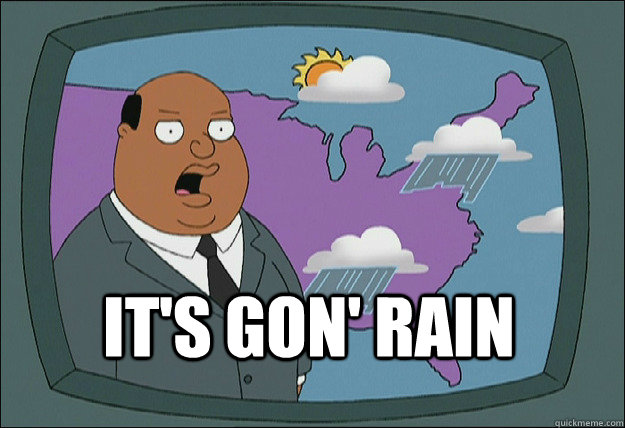 And maybe even storm. Tuesday morning begins with a slight chance of thunderstorms courtesy of mid-level instability (warmer air underneath colder air). But, mostly, this will be a rain event.
Thunderstorm chances increase Tuesday afternoon as daytime temperatures warm to near 60° and the cold front approaches the Tennessee River. No severe weather is expected here, but if you're traveling close to the Gulf of Mexico for the holidays, keep an eye on forecast as they could see some stronger storms in south Alabama, Mississippi, and Louisiana.
For us, expect a lot of rain. Some areas could get more than an inch Tuesday.
Christmas Eve  46° / 48°
Rain will encircle and surround this weak low pressure center moving from central Mississippi Tuesday night into Kentucky Wednesday morning. The GFS shows it this way:
The European model agrees, although it drags the low little bit further to the southeast. Either way, this means rain.
All the models think it will be too warm to produce any frizzy precipitation Christmas Eve Day.
For you optimists out there, we cannot rule out the possibility of some very light precipitation wrapping around the back edge of the system around midnight at Christmas Eve.
Again, this is very, very little precipitation, and it's likely none of it would ever reach the ground, and if it did it certainly wouldn't stick, but, yes, as to the question of whether you may see a snowflake or two on Christmas Eve:
I can't refer to Christmas with just Lloyd Christmas. So, here's this.
The weather system will quickly move away on Christmas Day 35° / 49°, leaving us mostly sunny and mild.
Coming soon, a new radar! It will contain current temperatures, current radar, and any active severe weather warning polygons. It will also have a link to a beautiful, full-screen display, and it should work just fine on your mobile phone. Our Christmas present to you.