A look at the meteogram (in descending order: temp/wind chill, rain, snow, freezing rain, sleet) . . .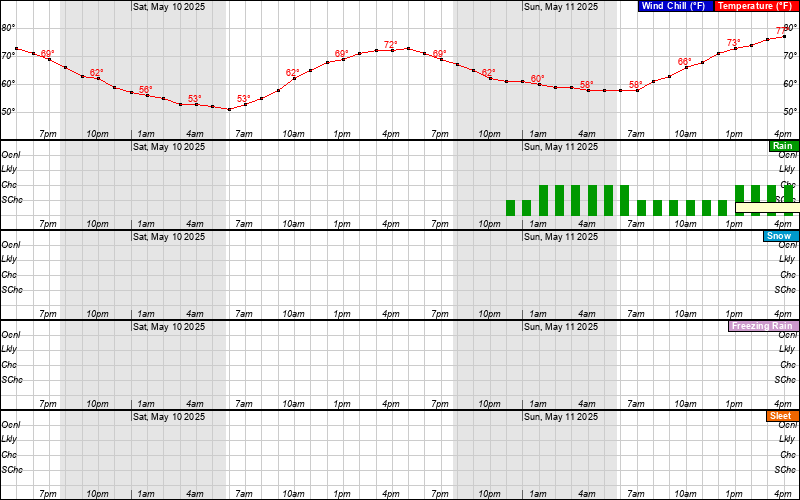 Here's what the radar and temps looked like at 9 PM:
The "Round 1" rain has exited east.
Now we watch "Round 2" precip move slowly down I-24 toward Middle TN late tonight, overnight, and into the early Thanksgiving morning hours, and wait and see if it'll produce wintry precip.
This second round of precipitation appears to be much lighter than the first. The latest (01z) run of the HRRR model still thinks it will be too warm for any overnight precipitation to change over to snow/flurries. However, around 7 AM, any lingering precipitation may change over from drizzle to flurries/snow, but it will be very light and of little to no consequence. In fact, I will be surprised if we see any precip squeeze out of the back edge of the system during early daylight hours. The models confirm this.
So, basically, this is a non-event, with the potential to toss some flurries around. That's not true for counties to our north and east, and especially those on the plateau, which may see some very minor snow accumulation.
It appears you are going to need to be pretty far north and east of Nashville to see any accumulating snowfall.
Thanksgiving will be the coldest day of the week. We will wake up to temperatures around 33°, topping out only in the low 40°s.
Temps will warm Friday and especially Saturday, both of which will be great days for football.
This website supplements @NashSevereWx on Twitter. You can find us here.