A look at the meteogram (in descending order: temp/wind chill, rain, snow, freezing rain, sleet) . . .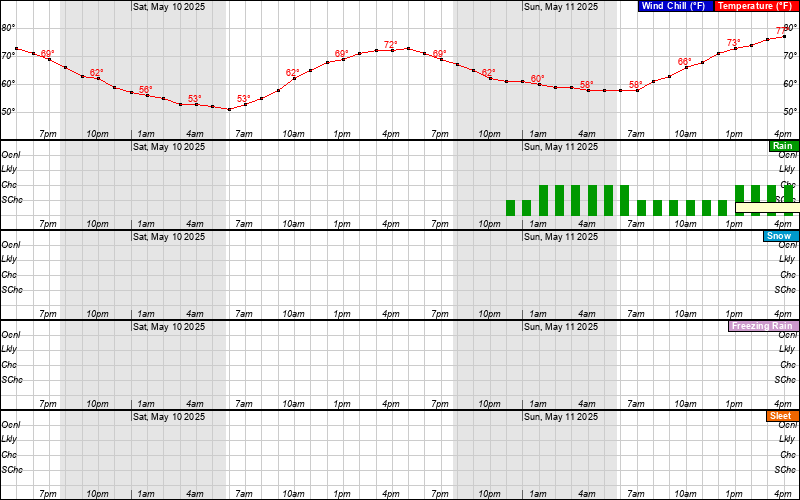 . . . earlier today had only rain in the forecast for us tonight. Notice now the inclusion of snow after midnight.
Overview
Snowflakes tonight? Yeah, maybe, but don't panic/party.
Our NWS has published these graphics, showing snow close by:
And this one:
Notice NWS has issued a Snow Advisory to our north and east. We remain firmly in the "Area of Flurries (i.e. No Acccumulation)."
Details
The fast-moving clipper system is approaching from the NW. It should arrive around 5 or 6 PM as rain (HRRR LaterRadar):
This should continue as rain until around 2 AM, which is when HRRR LaterRadar thinks some light precip will arrive and perhaps starts to flurry:
Yes, I too am looking at that map and thinking "meh." Not much precip to work with here. Note that we're at the end of the HRRR LaterRadar range, so another one of these updates will be done tonight when we have more data.
This is a really good summary, from NWS-Nashville:
If you read this morning's post about soundings, the latest forecast soundings show above freezing temps at the surface the whole time tonight/overnight, but temps around 1,000 feet and above will be below freezing. So any precip that squeezes out of this clipper system could fall as flurries/snow, only to melt at or near the ground.
More on this later tonight.
Thanksgiving looks cold, but we'll rapidly improve Friday through the weekend.
This website supplements @NashSevereWx on Twitter. Find us here!