As a Weather-Ready Ambassador, and because today marks the beginning of Winter Weather Awareness Week in Tennessee, we are honor-bound to ask you to read through the NWS's Winter Weather Info & Preparedness tips! If you memorize and recite these at parties, everybody will be talking about it.
Preparedness Reminders
Stock up on food, water, and medication well ahead of a winter storm.
Have extra batteries were flashlights, mobile phones, and NOAA weather radios.
Make a winter preparedness kit for your vehicle with an ice scraper, blankets, first aid kit, jumper cables, and road maps.
Keep extra blankets and clothing for warmth.
Where layers of clothing, hats and gloves to protect from cold.
Avoid overexposure to cold as frostbite and hypothermia can result in injury or even death.
What Stuff Means
Winter Weather Advisory: issued for minor accumulations of snow up to 3 inches, or ice up to 1/4 inch. Impacts to travel are possible.
Winter Storm Watch: issued for potential of significant accumulation of snow over 3 inches, or ice over 1/4 inch. Major impacts travel or damage to trees and power lines are possible.
Winter Storm Warning: issued when a major winter storm is expected with significant accumulation of snow over 3 inches, or ice over 1/4 inch. Major impacts to travel, trees, and parallel lines are anticipated.
Thanks for listening. Now, back to the future:
Sunday – A Cold Rain Continues
Radar last 4 hours:
We think rain will slacken off a bit tonight, but more precip will develop overnight into the Monday morning hours, then move on in to Middle Tennessee.
The big questions are (1) when will the freezing temps arrive and (2) will the precip still be here when it does?
NOTE: when snow forecasts bust, it's often because the rain escaped east before it got cold enough to turn it to sleet/snow. That's certainly a possibility tomorrow morning. We sit right on the line separating snow from no-snow. But, right now, the models think we'll see some transition from rain to snow/sleet around 5 AM to 7 AM.
Remember, it does not have to be 32° at the surface for sleet or snow to fall. It just needs to be 32° for it to stick. The precip falls from the sky, obviously, so it's important to see whether temps will be around freezing at 5,000 feet and below. To check that out for 6 AM Monday, the RAP model thinks the temp will be well below freezing from at least 5,000+ feet down almost until you get to the ground. The below forecast sounding illustrates this. A is the freezing line, B plots the forecast temp a at all elevations, and the lower left shows the ground, 5,000 ft, and 10,000 ft. See the red line? It's left of the freezing line:
That suggests snow, even though at the surface, the temp is forecast to be 33°.
Precip is expected to continue until sometime before lunch.
So far, there are no changes to the NWS-Nashville advisory products. We remain just outside the Winter Weather Advisory for snow and sleet:
Accumulation map: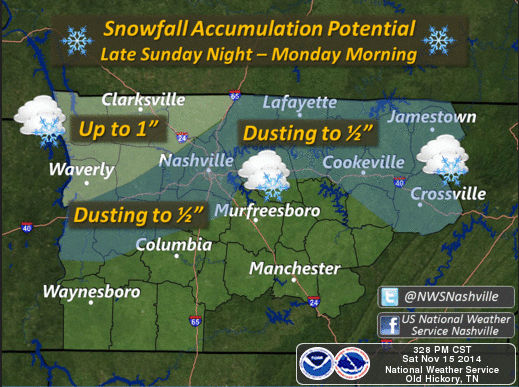 The further southeast you are, the lower your snow chances. Therefore, Joelton (of course) has a better snow chance than College Grove.
Remember, areas at elevation will become hazardous first. That means Joelton. That also means the stretch of 840 near Fairview (we've only been through a few winter events while that road has been operational; and each time it was one of the first locations to present icing/travel problems).
NWS says "the precipitation will be shutting off just after the transition to all snow. There lies the reason for only small accumulation amounts."
Again, there's a chance the rain will escape east before it gets cold enough to snow. If you ever consider putting faith in a snow forecast in Middle Tennessee, don't. A few of the models suggest we may just see a few flakes fly, without much/any travel impacts. However, on balance, the guidance suggests we will see minor travel issues in the morning.
A note about forecast confidence: I cringe when someone says "so-and-so says it's going to snow." That implies matter-of-fact we-know-it's-going-to-happen. I don't think we're good enough to say that, especially regarding snow in Middle TN. Snow forecasting often delivers a large dose of humility.
In totality, this will be a very minor winter precipitation event. Garden gnomes, mailboxes, and patio furniture will be hardest hit. Respect the ice. Taking it easy is a minor inconvenience relative to getting stuck in a fender bender or worse.
We shouldn't get higher than the mid 30°s Monday afternoon. The coldest air of the season will then descend upon us, possibly mixed with a few no-worries-afternoon-flurries. Watch the red line (temp) and blue line (wind chills) plummet:
Monday Night Football looks awful temp-wise.
Tuesday will be one of the coldest days of the year.
This will probably be the last blog post before the ETA of the changeover to snow. We will be covering the balance of this event on Twitter @NashSevereWx.