Current Official Hourly Observation (taken at :53 on the hour)
Sunday
One more cool day
It won't be overcast all day, but clouds will rule the morning. This will prevent sunshine from warming us up past 84.
Slight chance of an afternoon shower
Our NWS has the chance at 20%. The HRRR thinks a few scattered, light showers are possible until sundown. Here it is at noon (and it looks pretty much like this until sundown):
Below is the current radar. (Note the big blob over Nashville is radar clutter. To distinguish clutter from actual rain – usually the rain moves, but the clutter looks the same. This morning, most rain was moving NE; this afternoon, it is moving S).
If we get any rain (and we probably won't), I doubt it will ruin any outdoor plans.
Monday
The sun returns, so the high temp will climb close to 90. Not expecting any rain.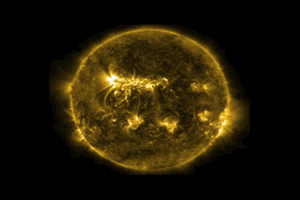 Rest of the Week
Classic summer is back! Hot, chance of rain, maybe even an afternoon thunderstorm.