The following is Mindy inspired.
Let's get "current" first.
Current Official Hourly Observation (taken at :53 on the hour)
Current Radar Loop
Temp & Rain Probabilities Next 36 Hours (auto-updating)

Monday — the heat cranks up to 90. The dewpoint at noon will be 70. Rain chances (see graphic immediately above) will steadily decrease from 6 AM to 6 PM.
Watching the World Cup? If not, Why Do You Hate America? True Americans watching the World Cup no doubt heard commentators discuss the oppressive Brazilian heat and humidity. Well, our temps/dewpoints this week will match those "in the shadow of the Amazon." That's right, you can replicate Amazonian playing conditions right here in Nashville! Try not to cramp up.
Tuesday — The high will be WHO CARES? USA! USA! USA!
During peak heating Tuesday afternoon (94 degrees), you should be indoors watching us play Belgium. By "us" I mean the U.S. Men's National Team, coached by a German-Californian, and comprised of a disturbing number of *cough* footballers-born-in-Germany-but-not-good-enough-to-play-for-Germany-so-they-play-for-us. John Brooks, who headed home the winner for us in the first game of the World Cup,
was born in Berlin. Berlin!
But I'm OK with this, and you should be OK with it too. The way I see it, if it was OK to use *cough* Germans to build a WW2-winning bomb, we can use them in the World Cup.
It's your duty to wiggle free from work Tuesday by 3 PM. Catch inspiration from our German-Californian coach, who gave us all this excuse to watch us lose to Germany: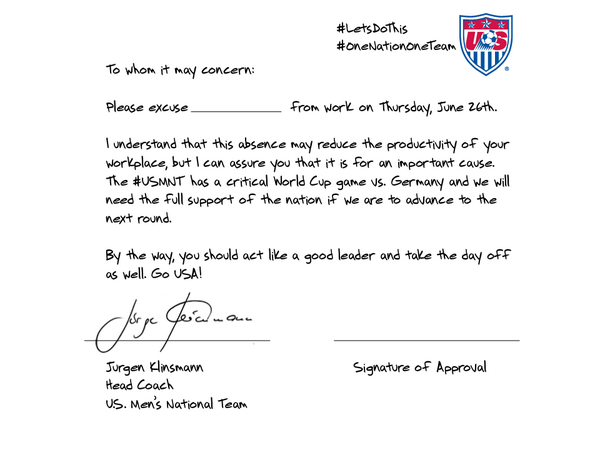 When your plot surely fails, note to your boss the temp Tuesday will be 94. Hottest day of the week, and maybe hottest so far this year. You should not risk working, even indoors. But it's safe to watch soccer indoors. I mean football. Soccer.
A few things to note about this game
We play Belgium, so do not purchase, drink, or otherwise consume in a manner worthy of a fraternity the following beverages:
Instead, eat these, because the U.S. Men's National Team has jerseys that look exactly like this:
Added bonus: if you're wearing the popsicle U.S. Men's National Team jersey,
and your red/white/blue popsicle drips on it, be comforted knowing that's about American as you can possibly be.
About our opponent, Belgium. My grandfather, may he rest in peace, was a proud Belgian. We should fear Belgians, if only because my grandfather rode his one gear bicycle across Green Bay to volunteer at a food kitchen, when he was 80. Any nation that produces ex-patriots that hearty is an OK nation, I suppose, but let's not get soft. We need a common enemy. Fortunately, Belgium has an easy one. This guy: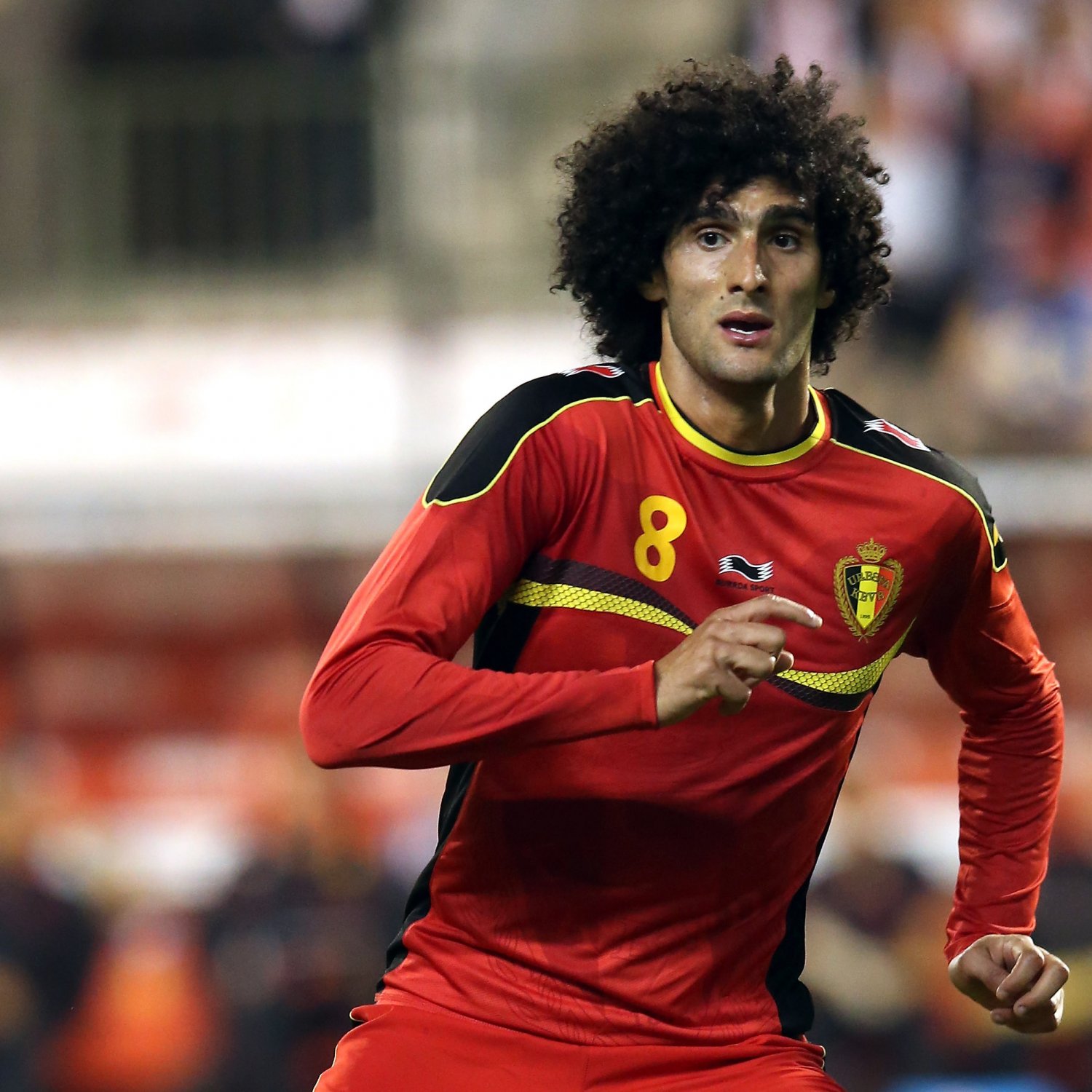 Marouane Fellaini. This dude's a felon. His last name I'm guessing means "felon" in Belgian (if that's even a language). Felon-anie has been a thug for Everton, and now Manchester United, both soccer teams in England. Behold:
Note his resemblance to nefarious Simpson's villain Sideshow Bob:
Belgium brings guys off their bench who would be the best player on the US Team. Our team's hope is that Jozy Altidore can recover from his hamstring injury, which he picked up sprinting 20 minutes into our first match. And Jozy Altidore sucks, y'all. I mean, he's better than me, you, and everyone else reading this, but on the international scene, he sucks, and we are really hoping he'll play. Even our coach thinks we can't win the World Cup, and you know what, he's right.
But, so what? Sum > Parts. We have Clint Dempsey! Check out that attitude!
We have Tim Howard! We have Guys With Hair! And Germans! USA! USA! USA!
Wednesday (High 91) and Thursday (High 86) hang on to a small chance of rain. It'll be too hot and humid to rule it out. But by
Friday, The Fourth of July, USA! USA! USA!, we'll wake up to 65, high 85. Evening fireworks appear to be completely rain free, according to both the GFS and European models. That's always a good sign.

Finally, to my new neighbors, sorry I didn't come outside to meet you while I was writing this. I am underwhelming in person. Welcome to the neighborhood!
This website supplements @NashSevereWx on Twitter.