Current Official Hourly Observation (taken at :53 on the hour)
Current Radar Loop
Temp & Rain Probabilities Next 36 Hours (auto-updating)

Sunday – Partly Sunny – High 84
The real storm activity today will stay well to our south and west. No rain for us, and the humidity is not terrible either. =D
Monday – Thunderstorms – Wake Up 63, High 85
Could see some strong thunderstorms tomorrow evening. Damaging wind and hail are going to be our greatest threat. Looks like there could be a round of thunderstorms in the afternoon, and a stronger round after midnight. More details and better ETAs tomorrow.
SPC (Storm Prediction Center) has us under a 5% chance of seeing severe within 25 miles of you:
Here is what the Hi-Res NAM model looks like Monday 2 pm – Tuesday  7 am: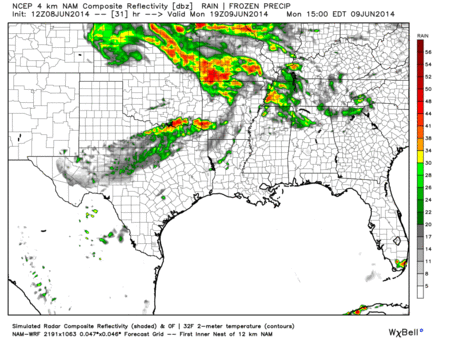 Tuesday – Thunderstorms – Wake Up 68, High 85
We have another chance at seeing more unsettled weather.
SPC had this to say:
We are just not sure were things will be igniting exactly.
This 5% area could easily shift to exclude us, or increase to 15% chance of severe weather occurring within 25 miles of you. Will have to wait and see what happens as we get closer to Tuesday.
Still lots of active weather. No need to mow/water the lawns. Just going to be too wet.
Official Extended NWS Forecast:
What is a Microburst?
No, it's not one of the best weather band names out there.
The short answer is, a small area of cool air rushing toward the surface, and in extreme cases have powerful winds over 150+ mph. They can cause some serious damage, and can sometime be a threat to life and property. Almost as if someone punches the ground with wind.
The long answer. There are three types of microburst, dry, wet, and hybrid.  All occur due from slightly different factors that all cause a downward rush of cool air.  Most common and what we dealt with in our area recently was a wet microburst caused by dry air aloft (or and updraft) holding or suspending precipitation. Once with the dry air is mixed out (or updraft has weakened) or is no longer strong enough to suspend the precipitation it falls, and gets forced down as a ball of water falling from the sky rushing air out in all directions. The strongest winds occur where the center of the microburst occurs and winds weaken as is moves outwards.
Literally all the air is pushed away and rushed out.
Another way to identify a microburst is a rain foot it can leave behind.
It can happen very quickly. In-between the 5 minute scans of a radar. Airports are the only places that have the proper equipment to detect a microburst due to DL 191 that crashed on August 2, 1985 at Dallas Fort Worth. It was actually over a 100F right before they flew straight into a microburst while trying to land and crashed. You can see why this would be dangerous for any aviation situation.
Since these things happen so fast and are hard to detect, a severe thunderstorm warning can have very little lead time if there is a warning issued at all for a microburst.
Here is a rare example of a severe thunderstorm warning being issued due to a microburst. This was from last Summer in Salt Lake City, Utah. Notice there is basically ZERO precip, so this would be a dry microburst. It was warned because it was close to the airport in Salt Lake witch detected the microburst to begin with.
This is some of the damage they can cause in more extreme cases.
This is why it can be just as important to take severe thunderstorm warnings just as serious as tornado warnings. It's different atmospheric processes that can cause the same amount of damage.