Current Official Hourly Observation (taken at :53 on the hour)
Current Radar Loop
Temp & Rain Probabilities Next 36 Hours (auto-updating)

Today – Rain, Thunderstorms (Some Possibly Severe) – High 74
As you can see from the above radar and meteogram, the rain and thunderstorms are here. Notice the storms are moving NNE, while the system itself very slowly works east.
Severe weather is possible today. This remains a "low end" or "isolated" severe weather concern, which will be little comfort if the severe weather "isolates" on you.
Tornado – the probability of a tornado occurring within 25 miles of you is 5%:
Hail – the probability of hail 1″ or greater falling within 25 miles of you is now 5%:
Damaging Winds — the probability of winds 58+ mph happening within 25 miles of you is 15%: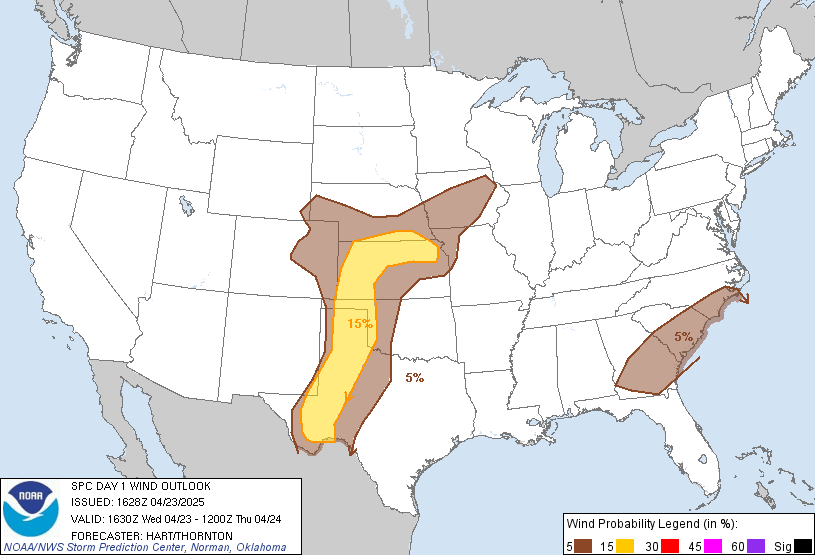 Rain totals will likely wash away your outdoor plans:
Updated severe weather information can be found @NashSevereWx on Twitter. No severe weather warnings will EVER be posted to this website.
Tomorrow-Weekend
After the rain pulls away early tomorrow, temps will plummet. Morning lows in the upper 40s, highs in the upper 60s/low 70s. We can't rule out rain during this team due to a series of weak upper level impulses, but no meaningful rain is currently forecast.