Current Official Hourly Observation (taken at :53 on the hour)
Current Radar Loops
Local radar loop includes live severe weather warning
Temp & Rain Probabilities Next 36 Hours (auto-updating)

Today – Enjoy it! 
Overview: 
Sunday – Strong to Severe PM T-Storms  
Very humid air will surge into Middle Tennessee in the afternoon. This is the storm fuel.
Hi-Res NAM model Sunday 10 am – 10 pm, shows storms firing up late Sunday.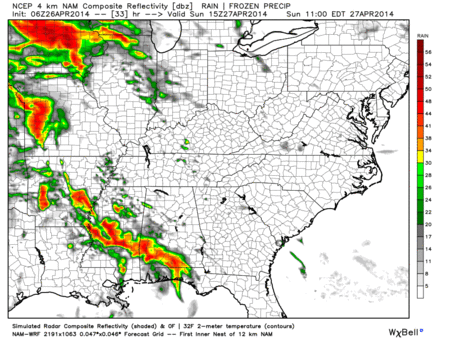 These storms could produce some damaging winds and hail.
The main show will happening to our SW on Sunday. The Storm Prediction Center has placed us just out side the "slight risk" area.
Storms late Sunday night may be severe, but the threat is thought to be relatively low:
Another more potent round of storms is expected to swing through overnight Sunday into the early morning hours of Monday.
Hi-Res NAM model Monday 7 am:
Monday – Severe Weather Continues
SPC summarizing Monday's event.
Note SPC chose the word "expected."
Once the early morning storms clear, all eyes will be on the skies. If the sun comes out, it'll recharge the atmosphere, creating a volatile and dangerous situation for afternoon and evening supercells.
From the SPC:
However, if the Monday morning storms linger, and clouds block the sun, it may take the edge off the threat later Monday afternoon and evening.
In any case, storms are expected late Monday afternoon and evening.
Tuesday – Severe Weather Continues
NWS-Nashville says this threat is "conditional" on what we see Monday; however, they "still expect widespread thunderstorm redevelopment along/ahead of the main cold front" which will pass through late Tuesday night.
Flooding/Rainfall
2″ to 4″ of rain is expected from Sunday through Tuesday.
The recent relatively dry period has river levels fairly low, so widespread river flooding is not expected. However, flash flooding is the bigger concern, especially late Monday afternoon and Monday night.
Before we get into the latest details of this multi-day severe weather outbreak, there are a few things we all need to do.
1. Most weather apps that tell you if its going to rain or not don't help you very much (if at all) to tell you there is severe weather. Don't rely on that during this event.
2. Get a NOAA weather radio and make sure it has fresh batteries. Some NOAA radios can be programed for just your county. This way it will only go off is a watch or warning is issued for your county. There will likely be severe weather Sunday, Monday, and maybe Tuesday nights. A NOAA weather radio will send out an alert that will wake you up.
Davidson NOAA weather radio code: 047037
Williamson NOAA weather radio code: 047187
NOAA weather radio signals sometimes get knocked out during severe weather. So don't make this your only layer of protection to be warned.
3. If you have a smartphone, download StormWatch+ (iOS, or iMap Weather Radio for Droid). Like a NOAA Weather Radio, this will send out an alert to your phone when "severe weather is imminent." StormWatch+ will also wake you up.
4. If a Tornado Warning is issued, first go to your safe spot, then look for additional info. Don't wait to respond.
5. Consult multiple reliable severe weather sources. Local TV meteorologists are fantastic. Watch them.
6. If power gets knocked out to some places, have some cash on you. Charge your phones, and have your ID with you. Put on shoes while in your shelter/safe place.
7. Hail is possible. Garage/Shelter the cars you care about.
This site supplements @NashSevereWx on Twitter. Note: No warnings will ever be posted to this website.