Current Official Hourly Observation (taken at :53 on the hour)
Current Radar Loops
Temp & Rain Probabilities Next 36 Hours (auto-updating)

(Editor's Note: I suppose).
Tonight – Cool & Clear – 57 at 10 PM
North winds 5-10 mph will clear us out and cool us off.
Wednesday – Sunny, Cooler – Wake Up 44 / Afternoon High 70
You may need a light jacket, but otherwise pleasant. Light north winds will prevent us from heating up.
Thursday – Chance Of Thunderstorms Late – Wake Up 44 / Afternoon High 78
After a sunny, warmer day, clouds will increase after sunset, followed by a fast-moving, rain-producing cold front arriving overnight.
The SPC (Storm Prediction Center) has highlighted an area of storms just to our west. We are not currently included:
Just to help give an idea of what the worst of these storms could be if that 5% area is shifted our way, SPC has this to say:
Yeah, I'm not impressed by the storm potential, but we will get about 0.35″ of rain late Thursday/early Friday.
GFS model Thursday 7 pm – Friday 7 am: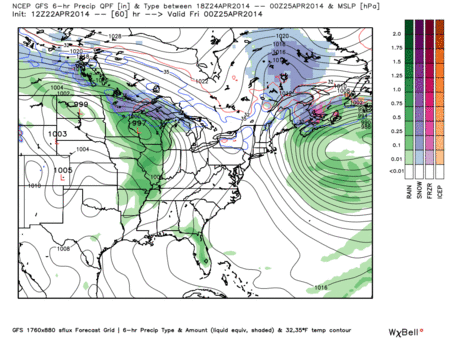 Official Extended NWS Forecast:
56° at the start of the race, low 70°s by noon, no rain in the forecast.
End of the Tornado Drought?
If you're going to have a drought, make sure it's a tornado drought.
Nationally, we are on pace for to see the fewest number of tornadoes ever:
As of April 21, 2014, there have only been 93 tornadoes in 2014. An average spring would have us at 413.
The last fatality from a tornado was December 21, 2013, which was 122 days ago. The record for most consecutive days without a tornado fatality is 220, set June 24, 2012 – January 30, 2013.
We set a record today for the longest start to a year without a tornado fatality. The previous record was April 21, 2002.
But, there's bad news.
This weekend, a powerful storm system is predicted to develop in the Great Plains – purple area on Saturday, green area on Sunday:
This system is expected to arrive in Middle Tennessee Sunday or Monday. It may or may not be as powerful as what we'll see to our west, and a lot can change.
This afternoon, our NWS-Nashville wrote: "Instabilities on Sunday and Monday will be on the increase and strong to severe storms . . . especially on Monday . . . cannot be ruled out.
"We'll need to keep an eye out for potentially strong to severe weather on Sunday and Monday."
This website supplements info @NashSevereWx on Twitter.