Current Official Hourly Observation (taken at :53 on the hour)
Current Radar Loops
Temp & Rain Probabilities Next 36 Hours (auto-updating)

Tonight – Increasing Clouds — 56 at 10 PM
Finally, an evening you can survive without a jacket. (Editor's Note: I'll be wearing one. Hate the cold).
Good Friday – Mostly Cloudy, Slight Chance of Rain – Wake Up 47 / Afternoon High 69
A developing low will be pounding much of the Gulf Coast. Check out the Hi-Res NAM model, Friday 6 am – 3 pm: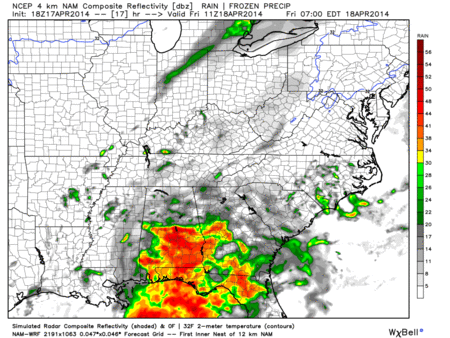 Some of that might make it far enough north and bug us, but probably not. It may not even rain at all on our Good Friday. We will see. Officially, our NWS has us down for 0.02″ of rain.
Saturday – Sunshine & Warmer – Wake Up 49 / Afternoon High 75
Grandma: Forgive my slang. Ballin' means your grandchildren's ballgames will happen Saturday.
Don't forget your SPF 85!
Official Extended NWS Forecast:
Rain is expected Monday/Tuesday of next week, with maybe a few thunderstorms. Severe weather? We quote the NWS, below:
This website supplements info @NashSevereWx on Twitter.