Current Official Hourly Observation (taken at :53 on the hour)
Current Radar Loops
Temp & Rain Probabilities Next 36 Hours (auto-updating)

Tonight – Rain/Thunderstorm After Midnight — 71 at 10 PM
Hope you enjoyed the nice warm weather today. Won't get this nice again till sometime after Easter. I know, sad face 🙁
Winds will be sustained at 15 mph and gusting up to 25 mph tonight.
#Round 1 of rain/thunderstorms begins tonight.
ETA on rain/thunderstorms tonight is around 3 AM. HRRR, RAP, and NAM models all pretty much agree on that.
HRRR model Midnight Monday – 9 am Monday: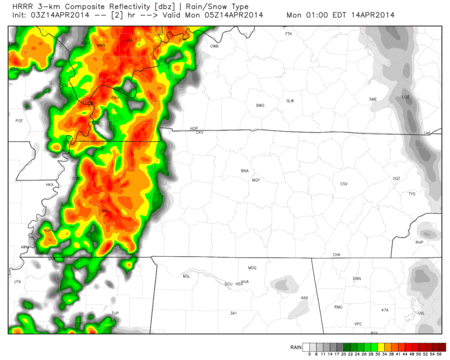 Tonight's storms could pack a strong punch of wind as they arrive, but should not be severe.
Monday – Rain/Thunderstorms Possibly Strong to Severe– Wake Up 62 / Afternoon High 72
We will still be dealing with the first round of showers/thunderstorms from last night in the morning.
ProTip: Build in extra time for your morning commute tomorrow. Roads will be wet and it could still be raining.
We will have a break in the rain/thunderstorms in the afternoon. If we get some sunshine in here, that will only make the next round stronger. Let's hope the clouds do there thing and stick around during lunch.
Depending on what the first one does in the morning will help determine how things turn out in the afternoon/evening. So we will have to wait and see what happens exactly.
Regardless of the thunderstorms we will still have winds sustained at 10 – 15 mph gusting up to 25.
The SPC (Storm Prediction Center) still does not include us in the "Slight Risk" area Monday:
This does not mean we have no chance of seeing any severe weather. We are just not expecting a wide spread damaging event across Middle Tennessee. It will be harder for storms to reach severe criteria. SPC does included us in the 5% chance of severe weather occurring within 25 miles of you:
Our greatest threats with these storms will be damaging winds, heavy rain, and lightning.
#Round 2
The cold front will continue to progress our way. As it does so round 2 of thunderstorms will set off and head our way. These storms have the chance of being strong to severe.
Hi-Res NAM model 2 pm Monday – 11 pm Monday:
ETA on these storms is still around 5 pm -/+ an hour. Good news, the worst of these storms have to offer will definitely be to our south.
ProTip: You may want to try and leave work early or at the very least build extra time into your afternoon commute home.
Damaging straight line winds will be our greatest concern with this line of thunderstorms.
Check twitter tomorrow for more frequent updates on exact ETAs tomorrow. Things could change as we get closer to the event.
The worst of the heavy rain and thunderstorms will continue to slide east. We will likely be dealing with rain behind this line of thunderstorms.
Going to remain cloudy overnight. Bad viewing weather for the lunar eclipse.
Tuesday – COLD & Windy Still– Wake Up 39 / Afternoon High 48
With winds gusting out of the north at almost 30 mph, wind chills are forecast at 30 degrees at 7 am. Not expecting wind chills to exceed 45 degrees.
Moisture won't completely clear out till around Noon Tuesday. Moisture and cold air will wrap around the back side and that could spell the recipe for snow in April. It's no late cruel April Fool's Joke. We will be above freezing at the surface and none of the snow will stick. There will be very cold air aloft that can support snow and there will not be enough time for that snow to melt before it reaches the surface.
My reaction at even the possibility of, the "S" word…
There will be 0 chance of this having any real impacts on us. The fact that it's mid-April and models are hinting at snowflakes for Middle Tennessee is quite astonishing. I would not hold my breath completely on this one. A lot could chance with model runs tomorrow morning and this sNOw business could be a distant memory.
Either way it will be cold outside. An absolute shock to the system.
Please don't kill the messenger. I'm only but an intern…
Freeze warnings may be necessary for Wednesday morning.
Official Extended NWS Forecast: