Current Official Hourly Observation (taken at :53 on the hour)

Current Radar Loop
Temp & Rain Probabilities Next 36 Hours (auto-updating)
Sunday Night – Chilly & Clear
Monday – Cool Morning, then Sunny; Tiny PM Rain Chance – Morning Low 36 / Afternoon High 72
With high pressure off to our east, "return flow" begins (that's wxspeak for warm air arriving from the south).
Return Flow:
There is a tiny chance of rain Monday night as a weak, dissolving shortwave approaches.
Tuesday – Partly Cloudy Warm – Morning Low 53 / Afternoon High 74
Beautiful!
Official Extended NWS Forecast:
Severe Weather Outlook
The severe weather concern remains. What looked like a Thursday event appears to be evolving into a Friday event. That's not good news.
Why?
Because the nefarious low pressure center (the "L") and associated cold front will have more time to strengthen. It also means more time to pump storm-fueling warm and humid air into Middle Tennessee, like throwing more dry brush into a forest fire.
The current outlook from the SPC (Storm Prediction Center) does not include us … yet. The only reason is that we have not reached at least a 30% chance of severe weather happening within 25 miles of us. Places well to our west have reached that limit, and are under the threat of severe weather Thursday.
The models are in pretty good agreement that we will have the high dew points (humidity), which fuels storms. What remains to be seen — and we won't know until the day of the event — is how much fuel will be in the atmosphere for storms to work with.
The GFS model (below, showing Thursday 10 pm – Saturday 1 am) has one round of thunderstorms moving in Friday around noon, and another round redeveloping for Friday night. It's too early – WAY TOO EARLY — to know if we will even have two rounds of thunderstorms.
The Canadian model (below, showing Friday 7 am – Saturday 7 pm) pushes a round of rain in Thursday and, unlike the GFS model, the Canadian sticks to only one round of rough weather Friday night. This is because the track of the "L" is much further north. Remember, the closer the "L" is to the north, the more potent the storms should be.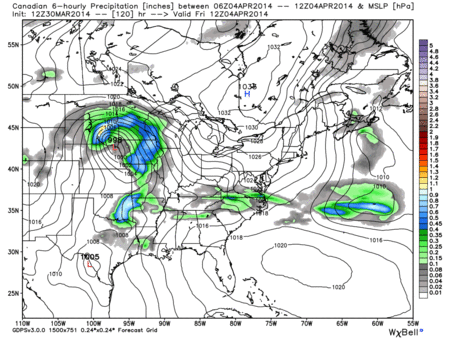 The European model (not pictured) is definitely the fastest of the models.  It predicts rain late Thursday, then a main line of storms Friday morning, with everything clearing out in the afternoon. Like the Canadian model, the Euro keeps the "L" further north into the Great Lakes region. The European model would be the best model scenario for us because it moves the system in the fastest, and keeps the "L" well to our north.
A lot can and will change between now and then. Stay tuned.
This website supplements info @NashSevereWx on Twitter.