Current Official Hourly Observation (taken at :53 on the hour)

Current Radar Loop
Temp, Rain, & Snow Probabilities Next 36 Hours (auto-updating)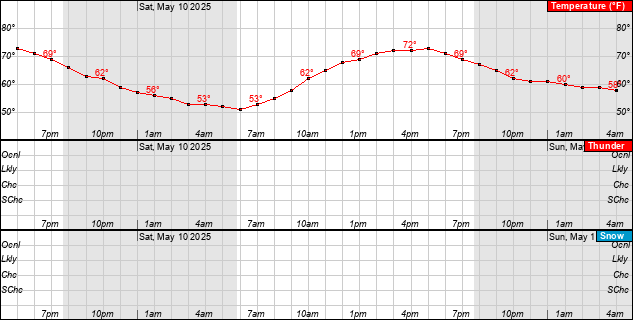 Tuesday Night – Clearing Out
Several narrow bands of light to moderate snow moved through this morning and earlier this afternoon:
Even though it was above freezing at the surface, some of the snow bands were intense enough to cause some light accumulation on some grassy surfaces.
Just before 12:20 PM, there was thundersnow just NE of Brentwood: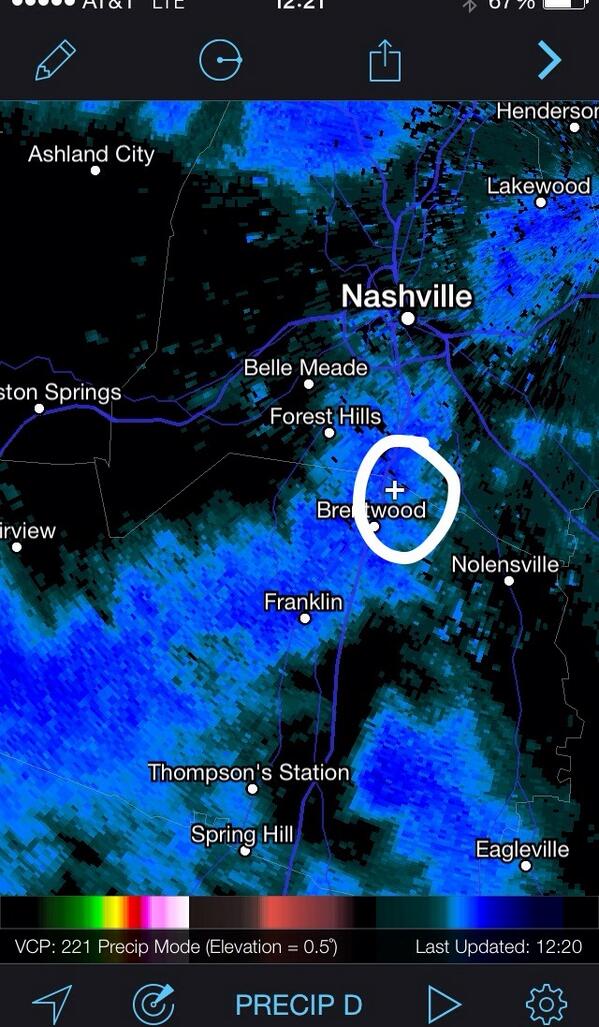 Roads and bridges were too warm to be threatened
Many of you tweeted us with amazing pictures of this #SpringFail:
Strong winds this afternoon will dry up most of the wet surfaces before temps drop this evening, then winds will die down as we progress through the evening.
(Side note: This system affecting us today will merge with another weather system off the Carolina coast, creating a MONSTER STORM, which is forecast to ride up the East Coast. Cape Cod will be getting the worst of this system with a full fledged BLIZZARD. Major cities should be spared the worst, with just a dusting to a couple inches of snow.)
Wednesday – Cold AM & Sunny – Morning Low 23 / Afternoon High 46
At least the winds will be dead. No need to worry about wind chills.
Wednesday night won't be as cold as Tuesday night.
Thursday – Sunny, Windy Day; PM Thunderstorms – Morning Low 37 / Afternoon High 62
Our next system will be more spring-like. Winds will blow from the south, gusting up to 35 mph. A Wind Advisory may be issued by our NWS for Thursday. Will all those strong southerly winds, warm temperatures will arrive, hopefully for good.
The feeling of Spring in the air will give way to some Spring like thunderstorms.
The SPC (Storm Prediction Center) currently keeps severe chances well off to our west.
We don't think storms will be arriving until the overnight, but we are still too far away to be sure.
GFS model Thursday 7 pm – Friday 4 pm: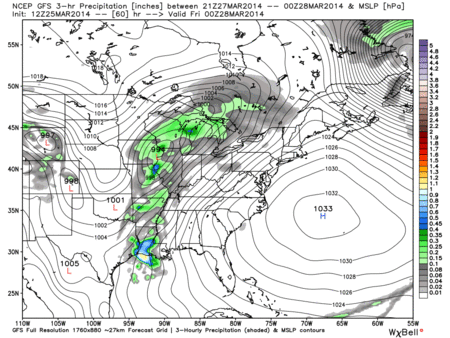 Friday looks like a washout, with a few showers lingering into Saturday morning.
Official Extended NWS Forecast:
Severe Weather Outlook
Next week could — possibly — bring us as much as our first Spring Severe Weather Event, or maybe as little as garden-variety thunderstorms.
Models are coming together to show the big ingredients we need to have a chance of severe weather.
It's a good time to review them:
#1 Warm & Humid Air (The Fuel)
There's a lot of warm (temp) and humid (dew point) air to our south and in the Gulf of Mexico. How do we get it? South winds.
That looks to be happening next week. It takes a couple days for south winds to blow that good, deep Gulf of Mexico moisture in here — especially with all the dry air already in place.
This run of the GFS model (next Tuesday 1 PM – Friday 1 PM) shows dew point (humid air). To get severe weather, you generally dew points of at least 60 and up (yellow and orange colors) ahead of a cold front.
Here's the GFS model (Monday 1 AM – Wednesday 7 AM), depicting the transport of warm air into Middle Tennessee from the south. This is courtesy of a ridge of high pressure.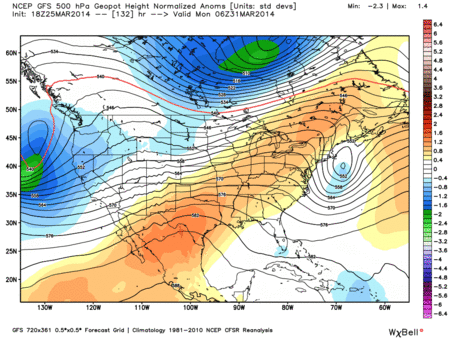 Notice that a trough (in blue) shows up next Wednesday, kicking out the warm south air, replacing it with a north/northwest wind, its cooler temps, and drier air.
#2 Ignition (Match)
The match igniting the warm, humid air is a low pressure system and a corresponding cold front. The closer you are to that low pressure center, the better severe-friendly lift and spin you will have in the atmosphere.
Lately, our severe weather events have featured a low pressure center moving through the Great Lakes region. It was (thankfully) too far away to cause a bigger, more severe, problem.
If the center of a low pressure moves closer to us — further south, through Arkansas, Missouri, and Illinois — our severe weather chances increase dramatically.
Here is the GFS model, next week, Tuesday April 1st 7 PM – Friday April 4th 1 AM. Notice the location of the center of the low pressure.
Notice the low pressure system moving through the Great Lakes — this would give us a more linear squall line thunderstorm threat. If that low (the "L") was closer to us, severe concerns would increase.
This is just one model and it's really far out. Alot can, and probably will, change. We aren't predicting severe weather for next week, at least not right now. We wrote this only to illustrate the things we look at when forecasting severe weather.
This website supplements info @NashSevereWx on Twitter.