Current Official Hourly Observation (taken at :53 on the hour)

Current Radar Loop
Temps Next 48 Hours (auto-updating)
There's a good weather forecast in here, but if you choose to continue reading, you will probably end up dumber. For that, I apologize. In fact, you should stop reading. You're better off reading this SEC Basketball Tournament Preview.
I realize very few of you are watching The Bachelor, or even know tonight is the not-even-narrowly-anticipated season finale. If you've not heard of it, Jimmy Kimmel has a good synopsis:
I know of only one other dude watching this show. For the record, I am not worried about losing my Man Card, which was previously confiscated when I declared Love Actually to be a better movie than The Usual Suspects.
Today – Lucy, a Free Spirit, Enjoyed Today Without a Care in the World! – 9 PM 57
Just Like Lucy, the nice weather won't be around too much longer.
Tuesday – AMAZING! – AM Low 47, PM High 73
The morning will be amazing. Your amazing ride to school or work will be amazing. It will be amazing how amazing the weather will be. Your lunch will be particularly amazing, during which you will have amazing yet meaningless conversation. By the end of the day, you will run out of anything to say, so you'll just keep repeating how everything around you is so amazing, and that will be so amazing.
As long as you are there for the right reasons.
Honestly.
Tuesday Night/Wednesday – "He's Hot, But Looks Can Fade" – AM Low 53, PM High 55
It was nice and warm Sunday and Monday, and Tuesday looks great, but on Wednesday comes harsh reality.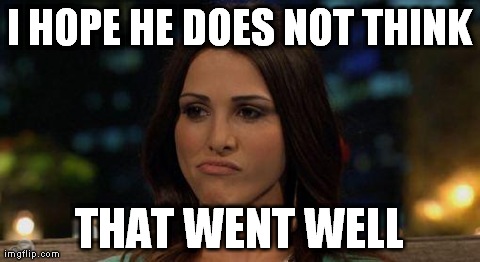 After Andi spent a night in the Fantasy Suite (an opportunity to "talk"), Andi told millions she closed her eyes and played dead rather than listen to Juan Pablo talk more about himself and his dates with other women.
Also cold: after midnight Tuesday night & into Wednesday morning, a cold front will push a few non-severe thunderstorms and rain through. Temps will drop into the 50s.
Wednesday will also bring a 30+ mph wind, sending wind chills below freezing Wednesday night.
The wind will cut like:
"His eyes are kind of beady, aren't they? Little weird teddy-bear button eyes, but like a mangy teddy bear you find at a garage sale that no one wants anymore."
Rain should linger through the day, then gradually clear out. I don't think Wednesday night soccer practice . . .
. . . will happen. Expect a rain out. It'll be a little cold. Amazingly cold, even, Honestly.
Thursday – Clearing, but Colder – AM Low 25, PM High 48
Friday and Saturday's high is 61. By Sunday, another weak system will approach, with only a slight chance of rain.
Next week, we expect colder than normal temps (normal temps for this time of year: lows in the mid 30s-40, Highs 60-65).
(Prediction: Juan Pablo chooses Camilla).