Current Official Hourly Observation (taken at :53 on the hour)

Temps Next 24 Hours (auto-updating)

Current Radar Loop
What Happened Today?
We woke up to freezing temps; however. above-freezing temps overhead arrived with the precip, preventing snow from forming. Instead, we just got rain.
Around lunch, the temps overhead finally cooled to/below freezing, making some sleet. However, ground temps warmed above freezing. This prevented accumulation.
Also, there wasn't very much precip, and as what little we had tried to make it into Davidson County, it encountered: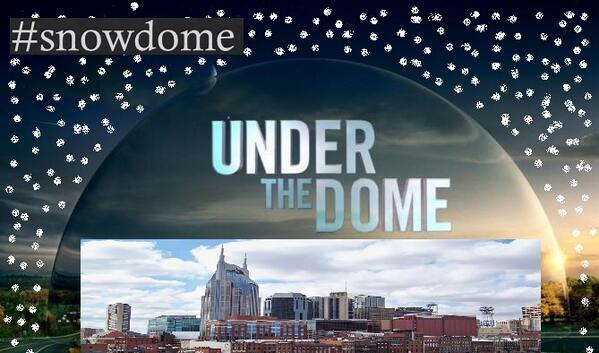 Even though the #SnowDome was finally breached by snow this afternoon (because temps overhead got even colder), ground temps remained above freezing, preventing accumulation.
At 8:45 PM, the threat was winding down, and almost over:

Later Tonight
Temps will soon fall below freezing. Ice may develop on roads. Be especially careful on bridges, overpasses, and areas at elevation, because those ice first. Travel may be an issue.
From @lilibat:
Thursday – Sunny – Morning Low 23 / Afternoon High 46
The Countdown to Spring continues:
( I don't know why there is blank space there. Wait. Yes I do. I blame The Intern! It's why we have him around.)
Black ice might be a problem early; otherwise, a nice February day is setting up.
Friday – Rain Returns – Morning Low 29 / Afternoon High 43
More rain is set to arrive Friday afternoon. Grab the rain gear, but it won't rain all day. Rain is arriving because of a cold front, which will drop temps Saturday.
Official extended NWS Forecast:
Questions? We're on Twitter @NashSevereWx, where you can find additional info.