Current Official Hourly Observation (taken at :53 on the hour) & Radar
(Scroll down for The Editor's "On Busted Forecasts" post).
Tonight – Clear & Cold – Midnight Temp 15
You don't need me to tell you it's January and it's cold outside.
Spring returns March 20, 2014, at 11:57 A.M. Days away:

Thursday – Sunny, Warmer, Windy – Morning Low 10 / Afternoon High 40
6a 11 . 9a 20 . 12p 33 . 3p 39 . 6p 36 . 9p 33
We will get above freezing!
Winds will increase, sustained at 10 – 15 mph, with gusts up to 25 mph.
Extremely dry air (low relative humidity) has prompted a Fire Weather Watch from Noon until 6 PM Thursday.  Any fires that develop will spread rapidly. Outdoor burning is not recommended.
There is a very slight chance of rain and freezing rain after 3 am (early Friday morning). I'm not worried about it. We will watch closely and update tomorrow when we have more data to review.
A rainy weather pattern looks likely over the next few weeks as cold and warm air masses battle, with us in the middle.
Friday – Rain Chances Increase – Morning Low 27 / Afternoon High 45
6a 28 . 9a 33 . 12p 41 . 3p 44 . 6p 43 . 9p 40
If the light freezing rain develops very early Friday morning, there maybe some slick spots on the roads, but any impacts should be short lived because temps are forecast to quickly rise above freezing. Again, we think this is very unlikely.
We are on the fringes of developing rain. We aren't sure if we'll see any. We will see what the models predict for us tomorrow.
Extended Official NWS Forecast:
Weather models aren't sure if that rain/snow blurb for Sunday will be rain or snow. Based on the temp profiles, the window for any accumulating snow would be late Saturday night or early Sunday morning. Anything that falls will hard have a hard time sticking around because temps are forecast to quickly move well above freezing Monday morning.
Another, similar, rain/snow system may move across Middle TN Tuesday night/Wednesday morning. That system may have a better chance to produce accumulating snow, but it's completely ridiculous to say anything else about that right now. The event is way too far away for us to say anything meaningful about it.
Super Bowl Forecast (for New Jersey, not here!)
Kickoff looks mostly cloudy, with a temp of 38, slowly falling throughout the game.  Winds will be relatively calm. Good news for Broncos fans (right?).
On Busted Forecasts
Yesterday in Birmingham: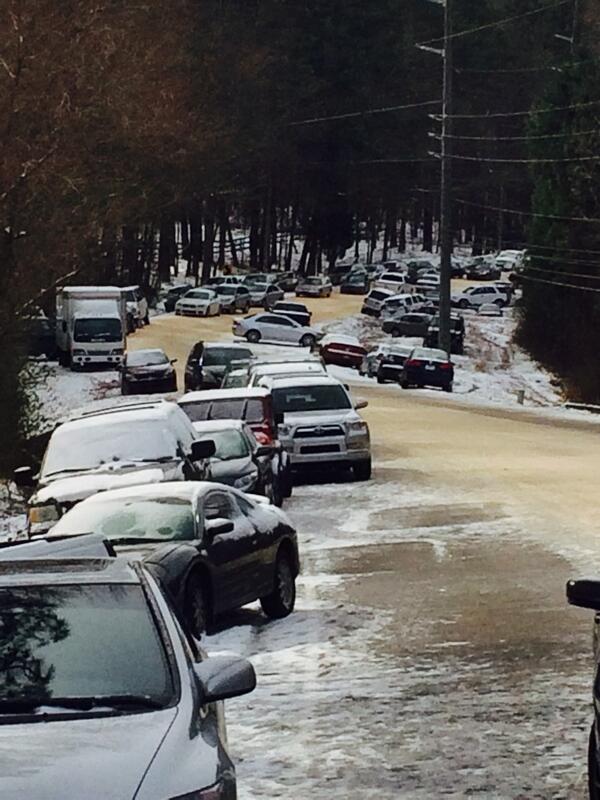 In Atlanta: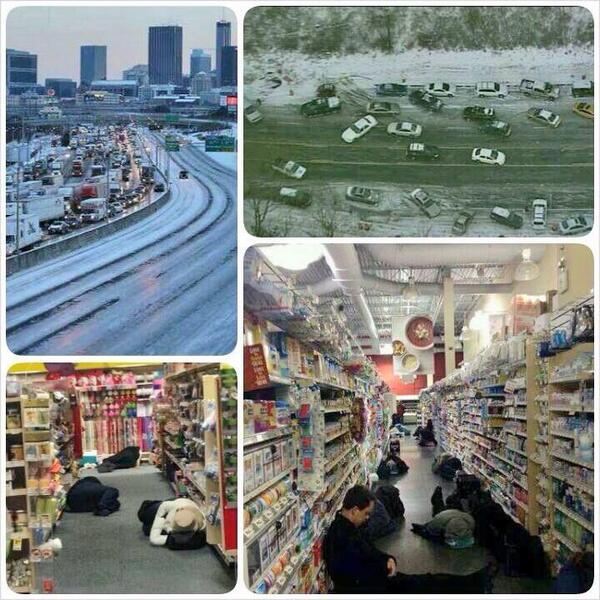 This morning I was emailed two snow stories from professionals in Birmingham and Atlanta:
Birmingham
I am stuck in my office with others. The roads are so bad you just cannot drive. Many people stuck in their cars from yesterday and had to sleep in cars.
My secretary left office at 11 am yesterday. At 7 pm she had to abandon her car and slept in a Walgreens. My dad spent 12 hours on Hightway 280 and made it 12 miles; he is in a church.
Atlanta
Yesterday's predictions were snow to the south of us. We opened as usual and only a few who come from the south elected to stay home. By 11 am the forecast changed and we started to get snow flurries, but no big deal, it was not sticking.
By 12:30 pm, it was sticking, and we elected to close the office. Apparently everyone and all the schools had the same idea. My staff all left and spent over an hour just trying to get out of the parking garage. I stayed as I live close by.
The roads around my office were in full gridlock by 1:30 PM. There was no car movement on Peachtree whatsoever. My paralegal who lives 4 miles away in town got home 4 hours later. My paralegal who lives 12 miles north took 8.5 hours. My secretary who lives 30 miles west luckily made in in 5.5 hours, but a paralegal behind her was not so lucky and abandoned her car on the interstate 12 hours later! Our managing partner spent night on the couch! It took my daughter 3 hours to get 7 miles home.
People are sleeping in aisles of grocery stores because they are stranded.
I made it home in a little over an hour at 6 PM when the traffic started to move; it normally takes 15 minutes. Very lucky.
We'll never forget this and it's still frozen and folks are still stuck!
In addition to these stories, there are tragic stories. What happened?
In this excellent post at alabamawx.com, James Spann (@spann) explained the situation in Alabama from a meteorologist's viewpoint. He also apologized. And he said something really, really important I want to emphasize:
"I have said this to both professional meteorology societies in speeches over the last two years. Humility is missing in our science. There are many things we don't know, and many things we can't do. Just about the time you think you are infallible, you will be brought to your knees. For the ones in meteorology and climate that say 'I could be wrong', I will listen and respect their opinion. But, for those that claim no error, we all know their time is coming."
Here's my favorite (yet imperfect) analogy on this topic:
Imagine it's your job to predict the winner and final score of the Super Bowl, and you give your prediction on radio/TV/internet.
The game is played, and the prediction is wrong. Instead of Denver 41, Seattle 9, the final score is Denver 30, Seattle 17.
Thousands take to media to criticize you, and a lot of that would be fair. After all, you said "this will be the final score," and you were wrong.
You had studied both teams, broken down all the stats, reviewed game film, individual matchups, studied the demeanor of the coaches and players during media week, run simulations of the game through several sets of supercomputers millions of times, etc., but the result is still in error. Why?
A gust of wind blows a pass off line, and a completion becomes an interception. A team's center breaks his leg in the second quarter, and the offensive line is out of synch the rest of the game. A coach makes a bad decision. Or, to be more relevant to Sunday's game, Peyton Manning inexplicably runs a naked bootleg and is obliterated and suddenly Brock Osweiler is the QB.
The list of unknowns, variables, and oddities of a football game are too numerous to count. It's impossible to "get it right."
As in most things in life, the older we get and more the we know, the less we realize we actually know. Like the guy trying to predict the exact score of the Super Bowl, meteorologists have an idea of what may happen, probably even a very good idea of what may happen, but there are an incredible number of unknowns and variables which make exact forecasts always accurate. The variables and unknowns in the atmosphere are as complex, perhaps even more complex, than the problem of predicting the exact score of a football game.
When it comes to winter and severe weather, the smallest unknowable variable can be the difference between a snowpocalypse and a cold day, or a thunderstorm and a tornado.
Sometimes, the meteorologist gets it right. And sometimes, the meteorologist misses. A busted forecast isn't caused by a lack of dedication, diligence, or intelligence. As James says: "There are many things we don't know, and many things we can't do."
That does not mean they don't try.
@NashSevereWx.
Finally, you're invited to register (it's free!) for Severe Weather Awareness Day. Click the image below: