Current Official Hourly Observation (taken at :53 on the hour) & Radar
7:00 PM Update
Here's the NWS Snowfall Accumulation Map: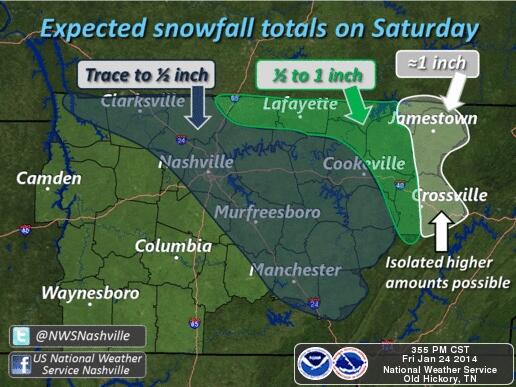 Here's another look at the NWS forecast: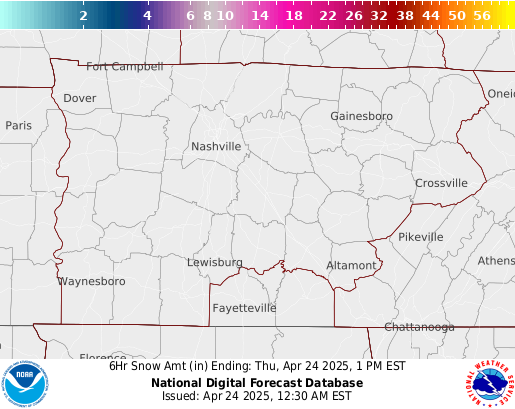 I think this is a reasonable reflection of our chances. Have a look at the models.
These models say "snow" (or rain/snow mix):
The RAP is a short-range weather model. Here's how it sees the rain/snow hour-by-hour, beginning 3 AM, ending at 11 AM: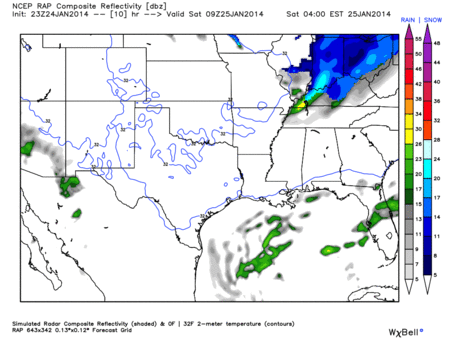 The Ni-Res NAM Model likes our snowflake chances. Hour-by-hour, 6 AM to 1 PM tomorrow: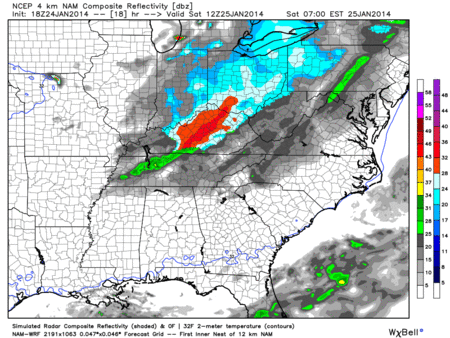 The Short Range Ensemble Forecast model also indicates snow tomorrow morning:
These models say:
The Euro model (not shown) predicts 0.2″ of accumulating snow in Robertson, Sumner, and Wilson Counties, but none in Davidson or Williamson Counties.
The GFS agrees with the Euro, also a nay-sayer to snow:
When both the Euro and GFS are naysaying, it means the chances are pretty small. We shall see.
5:30 PM Update
Tonight  – Slight Chance of Snow After 3 am  – Midnight Temp 24
Clear cold night with increasing clouds ahead of snow chances early tomorrow morning.
It'll also be windy, 10 – 15 mph, with gusts of 25 mph possible.
We don't think you should panic about the snow tonight.
Saturday – Snow? Wind, Clearing, & Warmer – Morning Low 23 / Afternoon High 41
6a 28 . 9a 29 . 12p 38 . 3p 39 . 6p 35 . 9p 31
If you don't feel like reading why or why not it might snow, all you need to know is: there is a really small chance of snow tomorrow morning. It'll be windy. Clouds will clear. It may be sunny by the afternoon.
(Editor's Note: The Intern wrote this. I think it's a good illustration of how complicated and difficult snow forecasting is).
It is going to snow? Honestly, I don't know. Some real science explanation is about to go down! Get ready, y'all!
(Editor's Note: Let me remind you this cool talk is from an actual college guy, not me trying to act cool).
We have a cold front (something like the 4th one this week) that is going to push through during the day. Strong winds will be a present, with gusts of 25 mph possible.
Ahead of the front, south winds will deliver a modest amount of moisture. It's not a lot – it's pretty dry south of here too. This is what will make or break the forecast.
If we can get enough moisture in here, the lift in the atmosphere provided by the front could create up to a dusting of snow.
On the other hand, we have dew points below zero Friday afternoon. That is some really, really dry air! So, it's going to take a lot of south wind and moisture to overcome it.
If you don't get this next part, its OK. This chart, called a forecast sounding (vertical profile of the atmosphere) from the GFS model, may look like a foreign language to you.
All you need to know right now is when the red line (Temperature) and the green line (Dew point) meet, the air is saturated, which could mean clouds, rain, or in this case, snow.
GFS model forecast sounding, Friday 3 pm – Saturday 3 pm: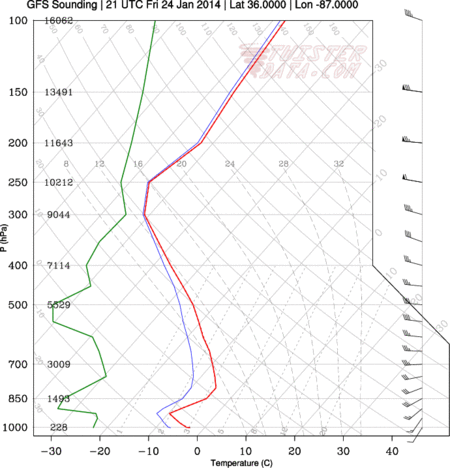 In order to even have a chance of forming snow in the atmosphere, we have to have the red line and green line meet in -10C to -20C (drawn diagonally on the chart) area. We call this "the snow growth region" in meteorology.
Notice how far apart the red line temperature and the green line dew point are from each other. That is the really dry air in place as of 3 pm Friday. As we go forward in time, the southerly winds and moisture advection will bring the lines closer together. That will be our increasing clouds ahead of the front.
As you keep going forward in time, the dry air decreases.
Eventually, almost the entire lower atmosphere will be saturated (the lines are touching or really close) – that is the critical snow growth region we talked about above.
There is a problem, though. Even though we may be making snow flakes over our heads, it may never reach the ground. The reason: the red line (temperature) and green line (dew point /moisture) never meet at the surface where we, you know, live.
The falling snow is being zapped by the dry air. However, this process moistens the air below it as it falls. If this event were to last longer, we would definitely see some snow reach the ground.
This is just a forecast sounding of the GFS model, so it can be wrong. Considering how close we get to snow reaching the ground before the system moves out, our NWS is putting our chance of snow at 20%.
Models could be wrong, there could be more moisture, and we could see some actual accumulation of snow.
Right now I think our snow chances are minimal for Nashville.
Hi-Res NAM model is probably the snowiest. It delivers less than a half inch Saturday 3 am – noon: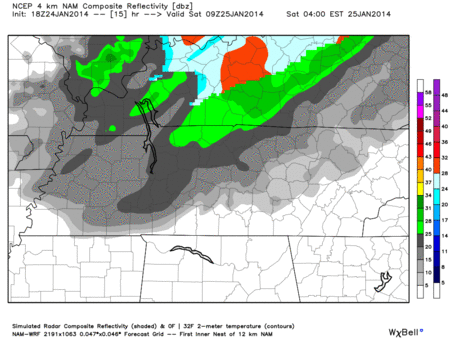 If snow does fall, it will stick and could cause some icy spots on the road. But, it won't last long because we will finally be getting above freezing in the late morning hours. If a lot of snow falls, impacts will be short lived.
Sunday – Heatwave! Still Windy – Morning Low 20 / Afternoon High 50
6a 23 . 9a 32 . 12p 43 . 3p 48 . 6p 42 . 9p 39
Such a nice day compared to this past week. Gusts of 30 mph still possible.
Don't get used to these near-average temps. It will be very short lived!
Extended Official NWS Forecast:
More really cold air arrives next week, just like this past week. It's still considered "Hazardous" cold weather:
Questions? We're on Twitter @NashSevereWx, where you can also find additional info.