Tonight – Rain – Temps in Mid 50s
Officially, rain should arrive around 9 PM, and continue into the wee hours of Saturday morning. The HRRR thinks it'll start later than that, around 1 AM or 2 AM. The time is in the upper right corner in EST (so subtract one hour):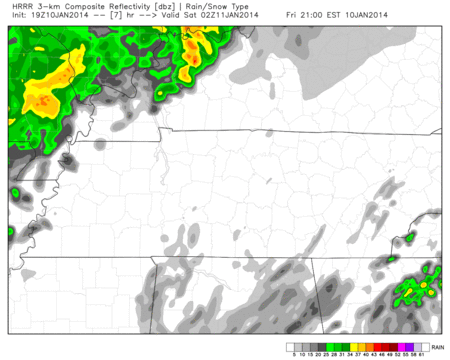 The "after-9" ETA is also supported by radar trends, which show the rain still in central and east Arkansas.
Thunderstorms may accompany a few of the heavier showers, but nothing severe is expected. Winds in advance of the rain may gust to 35 mph, but confidence is too low to issue a Wind Advisory over it.
Saturday – Morning Rain, Then Clearing – Morning Low 54, Afternoon High 56
Rain should begin clearing by the time we roll out of bed. We expect under 1″ to have fallen.
We'll be in the 50s all day, until the sun goes down (40s).
Sunday – Mostly Sunny – Morning Low 33, Afternoon High 55
It'll be cold Monday morning, then quickly warm to 50 by lunch.
Wednesday will be interesting. The morning shift at our NWS pointed out both the GFS and Euro weather models predicted snow arriving Tuesday night/Wednesday morning. The amounts, however, varied, between a dusting/half inch and two inches. Because it's so far away, they opted to put just a "slight" chance of snow in the forecast.
Good thinking.
Since then, the latest (12z) run of the Euro moved the Wednesday morning snow out of both counties and onto the plateau. The GFS (12z) gave us the slightest of dustings:
Still, the afternoon NWS shift "would not be surprised" if Middle TN "experiences some accumulating snowfall" Wednesday morning. Too soon to know if, and certainly how much, we'll see. Looking forward to more model data this weekend.
We're on Twitter @NashSevereWx.