At 3:05 PM, our NWS issued a Special Weather Statement titled "Anywhere from 1″ to 4″ of Snow Possible Sunday Afternoon and Evening." The 4″ is more likely for the plateau and counties north of Davidson Co. Click here to read the statement. Much of what it says is covered below.
2:30 PM Update
The skies look friendly right now.
Tomorrow morning (that's Saturday, if you've lost track), we will wake up to low 20°s, then warm above freezing through the day. The high will be 45°. It'll be a pretty nice day.
Late Saturday night, rain will arrive. As it does, temps will slowly fall from the low 40s into the 30s, meaning the precip will just be rain through Sunday morning.
Around noon on Sunday – and this is certainly subject to change – the rain will quickly transition to sleet, then change to snow.
Anywhere from 1″ to 3″ of snow is expected. The weather models differ about when the freezing temps will arrive, hence the range between 1″ and 3″. The GFS thinks we'll see about 2″+, while the Euro has us down for just under 1″.
Snow totals will be adjusted a few more times between now and Sunday as new data arrives. Up or down, I don't know. Here's the latest call from our NWS:
Slick roads/hazardous driving conditions are expected beginning Sunday afternoon. Snow should be powdery, which means it'll be blowing around, making visibility difficult. Once the main snowmaker leaves, flurries are possible all day Monday.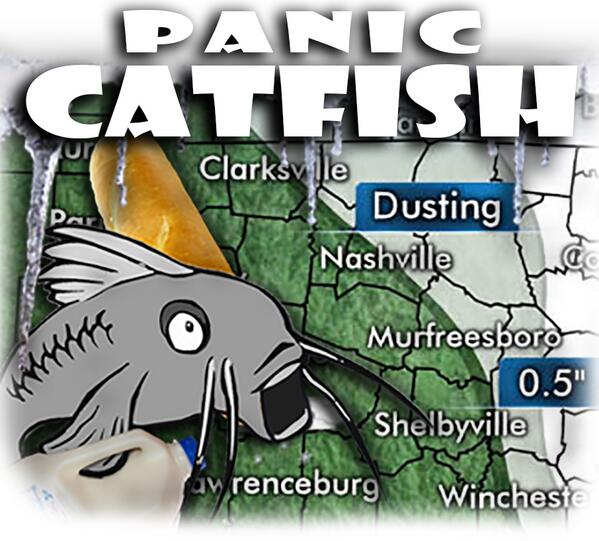 We're getting powdery snow — which won't pack well. Snowmen will be hard to build.
Unfortunately, temps won't fall to freezing, then mercifully stop falling. A powerful arctic cold front will drive very cold air into Middle Tennessee.
By dark Sunday, we're forecast to hit 25°. Winds will gust to around 20 mph. By midnight, 16°.
Followed by the coldest temps in Middle Tennessee since 1994.
By 6 AM Monday, it'll be 7°. SEVEN DEGREES!
We'll stay in the single digits the rest of the day: by Noon Monday 8° (Wind Chill -5°), 6 PM Monday 8° (Wind Chill -7°), and by midnight 5° (Wind Chill -5°). Yes, you read that right, Bert, we may not make it to 10° all day Monday.
NWS says Wind Chills could drop to as low as -15° Sunday and Monday nights. A Wind Chill Advisory may be needed (issued if the wind chill is expected between -5° and -15° for at least three hours).
Tuesday morning at 6 AM it'll be 3°, with a Wind Chill of -6°. The high? 19°.
With these historic low temps, the NWS reminded us about a few very common-sense things:
Don't leave your kids outside. That goes for waiting for the bus, operating a lemonade stand, or sledding. It'll be dangerously cold —  too cold to sled or do anything outside Monday.
Pipes may freeze. Also, disconnect your garden hoses.
Don't leave your pets outside.
Be sure your car battery isn't old or about to die.
Rain, Sleet, and Snow return to the forecast Wednesday night/Thursday morning. The terrible cold temps should be lifting by then, with Lo/Hi temps Wednesday (10°/33°) and Thursday (27°/42°).
Questions? We're on Twitter @NashSevereWx.